Sprint Camp 2018 Why Just Run
February 16th 2018 6:00pm - February 18th 2018 4:00pm

Organizers: Robyn Rennie (Event Director), Alison Schoenhardt (Assistant), Ben Smith (Assistant), Chris Benn (Course Planner), Mike Rascher (Course Planner), Stan Woods (Course Planner), Brian Ellis (Course Planner), Meghan Rance (Coach), John Rance (Controller), Marg Ellis (Host), Meghan Rance (Controller)
Map: Yaletown
Overall results

Split times (updated Tuesday 20 Feb)
→ Yaletown training splits
→ Confederation 2-person relay results (PDF)
→ BCIT splits
→ Britannia splits
→ SFU multi-level "training" splits
→ SFU setup splits
→ SFU chase splits

Meghan's training notes (PDF)

Britannia analysis and writeup
Confederation Park is the two-person relay on Saturday morning. Britannia is the "choose-your-forking" race on Saturday evening.
Registration is now CLOSED for the 2018 Sprint Camp! You can still register for the Sunday races on the WJR site. However I have a couple of cancellations who would be happy to sell their registration to anyone if you are sad that you missed out. Let me know at gvoc (dot) sprintcamp (at) gmail (dot) com
Sprint Camp weekend is a fun filled weekend of races, training sessions, coaching tips and opportunities for mingling with some of the best Sprint Orienteers in North America. If you enjoy the weekly WET events on our Urban maps then this event is for you. It will also be an excellent chance to get valuable training feedback from our coaching expert, Meghan Rance. We will not be providing beginner training or beginner courses. If you haven't been a regular attendee at the weekly WET events then please sign up on the Why Just Run event to be run as part of the Sunday activities.
This year we are starting the weekend with an Urban night event in Yaletown featuring timed O-tervals where you can compare your speed on a sprint leg with the rest of the participants. Remember to bring a headlight. We have the usual 1 person and 2 person relays which are usually fast and furious. We are also going to experiment with part of the new Sprint start format just released by IOF. Sunday's event at SFU will provide all sorts of challenges. A 5 level orienteering map?? followed by the excitement of Setup and Chase races. The weekend winds up with a final couple of training sessions to practice "starting on the run" and "memorizing the next leg" while enroute to a control. All valuable skills for the Sprint Orienteer.

SPONSORS

Thank you to the Orienteering Association of BC and viaSport for the financial contribution towards Sprint Camp costs. We would also like to thank Sport Burnaby for their assistance with facilities and the City of Vancouver and City of Burnaby for granting us permission to orienteer in their parks.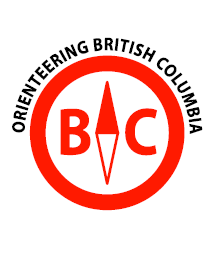 SPRINT CAMP COMMITTEE

Without our fantastically skilled and dedicated team of volunteers, this event would not be possible!
Event Directors - Robyn Rennie
Assistants - Alison Schoenhardt, Ben Smith
Program - Kate Knapp
Controller/Coach - Meghan Rance, John Rance
Timing/Computery stuff - Scott Muma, Bill Harrower
Start Chief - Karen Lachance
Permits - Robyn Rennie, Marg Ellis
Registration - Marg Ellis
Dinner - hosted by the Executive Suites Hotel, Burnaby BC
Course planners - Ben Smith, Alison Schoenhardt, Brian Ellis, Chris Benn, Michael Rascher
Mappers - Ben Smith, Hilary Anderson
On-the-day assistants - Bruce Rennie, Brian Ellis, John Rance, Marg Ellis, Graeme Rennie, Tom Lee, George Pugh and numerous other GVOC members
Want to volunteer?! We still need lots of help!
PRICES
All sessions (excludes dinners and accommodation): $110
Saturday only: $65
Sunday only: $55
Single training or race session: $15
Dinner Saturday: $25/adult $15/child (15 and under)
REFUND
Up to Jan 31, 2018, 75% refund
Jan 31 onwards, no refund
ACCOMMODATION
We are partnering with the Executive Suites Hotel in Burnaby, BC. They are offering double rooms (2 double beds in each room) starting at $115 plus tax. Please use Booking ID# 24984 when contacting them. Reservations may be made via 1-800-590-3932 or reservationsb(at)executivehotels.net. Bookings must be made by January 16th to receive this rate. Please email GVOC.SprintCamp(at)gmail.com for more information.
DINNER
The Saturday night banquet buffet will be held at the Burnaby Suites Hotel. There will be an open cash bar starting at 5:30pm and dinner will be served at 6:00pm. There will be a presentation or two along with an interactive route choice game to hone your skills. This is a great opportunity to catch up with new and old friends, go over courses from the day, and get a delicious meal. Tickets must be purchased in advance via Zone 4. If you have allergy or diet restrictions, please email GVOC.SprintCamp(at)gmail.com, and we will do our best to accommodate you.
PRIZES
Prizes will be awarded for top 5 men and women in the Best 4 of 5 SI Races. See schedule for which races count. Prizes are $200, $150, $100, $75, and $50. There will also be prizes for the top 3 men and women in the Expert category!
TENTATIVE SCHEDULE - DON'T RELY ON THE TIMES IN THIS TABLE. EVENT PROGRAM SUPERSEDES THIS TABLE IN ALL INSTANCES.

Time
Event
Location
Terrain
Friday, February 16
6:00pm
Welcome and Sign In
Yaletown


6:30pm
Warmup event - Night O'tervals
Yaletown
Urban - Night
8:00pm - 8:30pm
Wrapup and plans for Sat
Yaletown
Saturday, February 17
9:00 - 10:00
SI Race #1 - Farsta
Renfrew Ravine
Park/Mass Start
10:45 - 11:45
2 Person Relay
Confederation Park
Park/Mass Start

11:45 -
Training with Relay partner
Confederation Park
Park



Lunch
Drive (allow 15 min)
12:30 - 13:30
SI Race #2 - start window
BCIT
Urban
13:30 - 14:30
Training
BCIT
Urban


Drive (allow 30 min)


15:15 - 16:15
SI Race #3 - start window
Britannia
Urban
16:30 - 17:30
Swim and Relax
Britannia
Hot tub

17:30 - 21:30
Dinner/Presentation
Executive Suites Hotel


Sunday, February 18
9:00 - 10:00
SFU 5 Level map - training
SFU, Burnaby
Urban/Park
10:15 - 11:15
SI Race 4 - Semi Final
SFU, Burnaby
Urban
12:00 - 13:00
SI Race 5 - Final
SFU, Burnaby
Urban
13:15 -
Awards & Lunch




14:00 - 15:30
Training - Starts and Route Memory
SFU, Burnaby
Urban/Park
---
Location
Course Maps
Yaletown Expert Training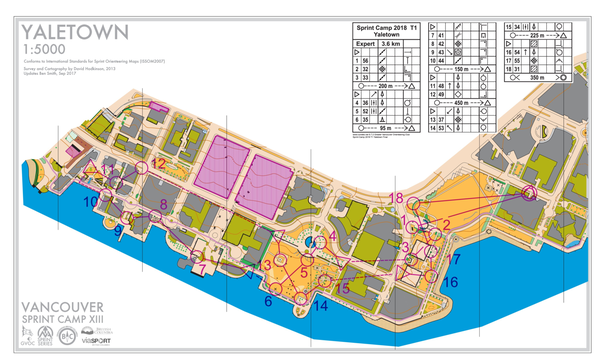 Yaletown Elite Training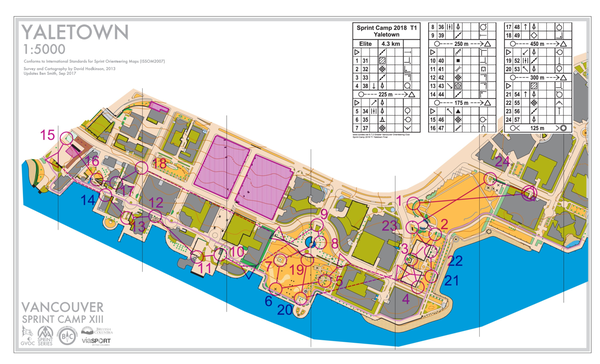 Renfrew Ravine Farsta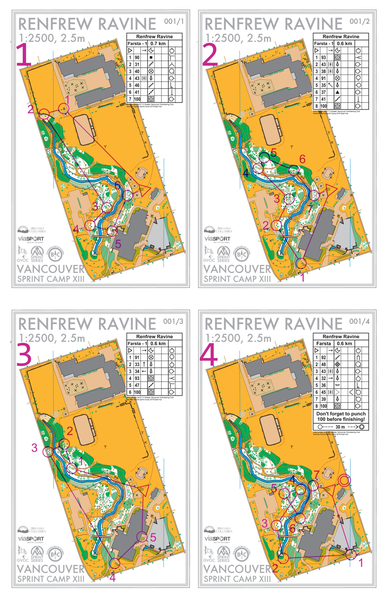 Confederation Park 2-person Relay
Confederation Park Training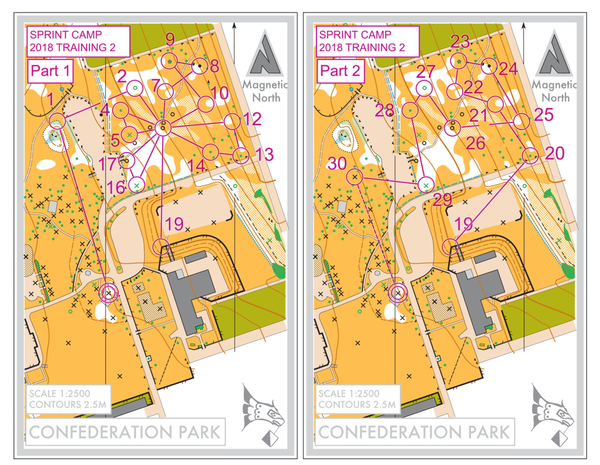 BCIT Expert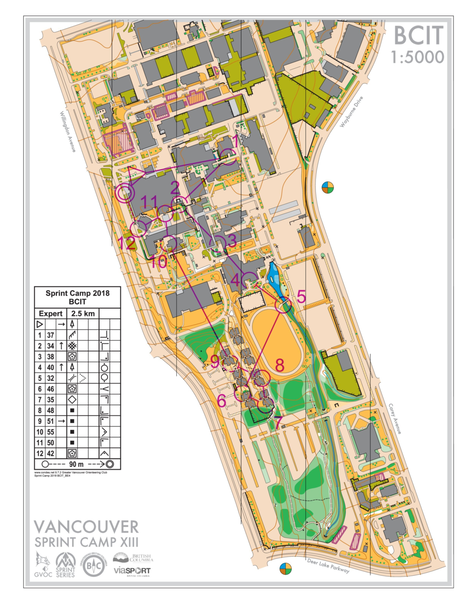 BCIT Elite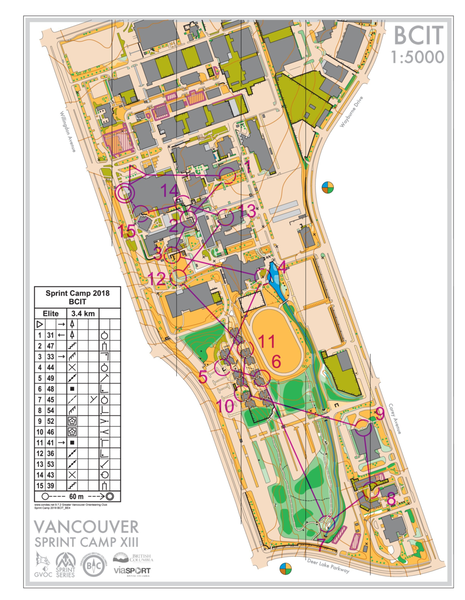 BCIT Route Choice Training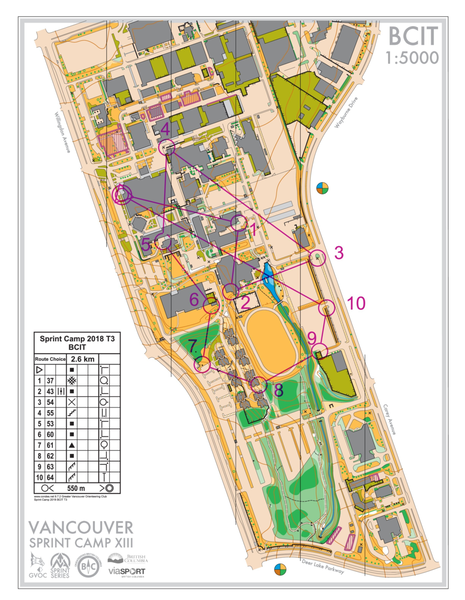 BCIT Relay Training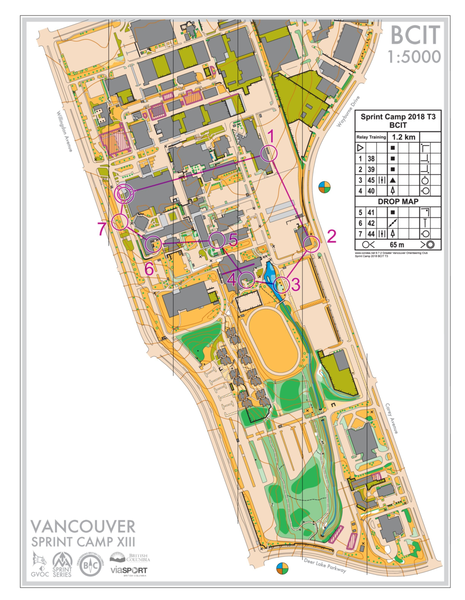 Britannia A/B/C choices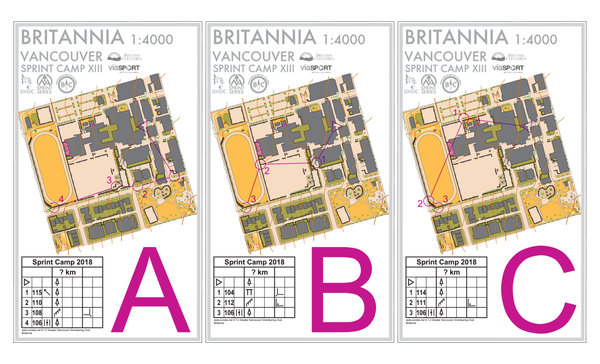 Britannia Expert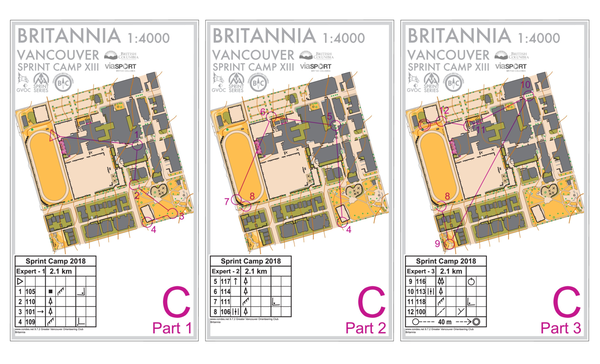 Britannia Elite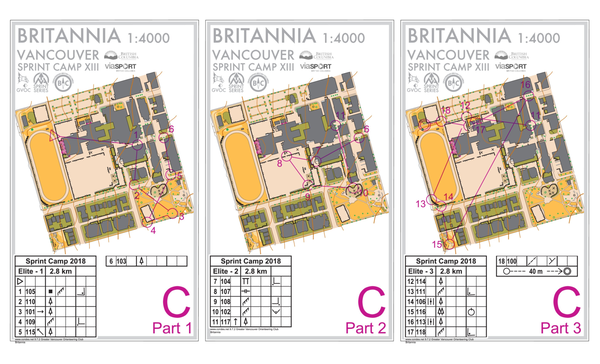 SFU Multi-level "Training"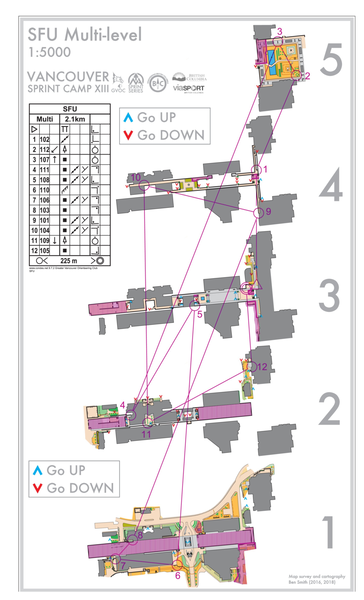 SFU Setup Expert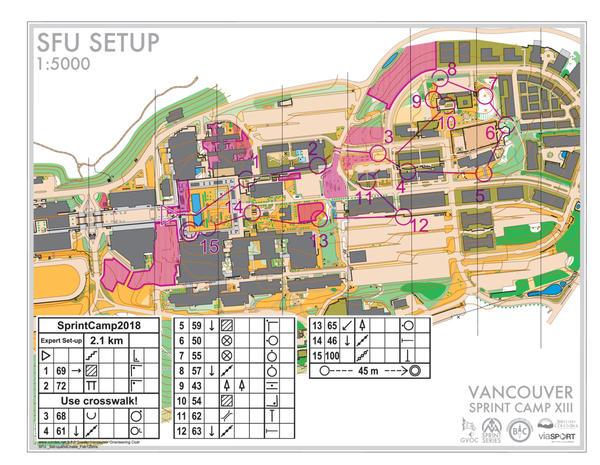 SFU Setup Elite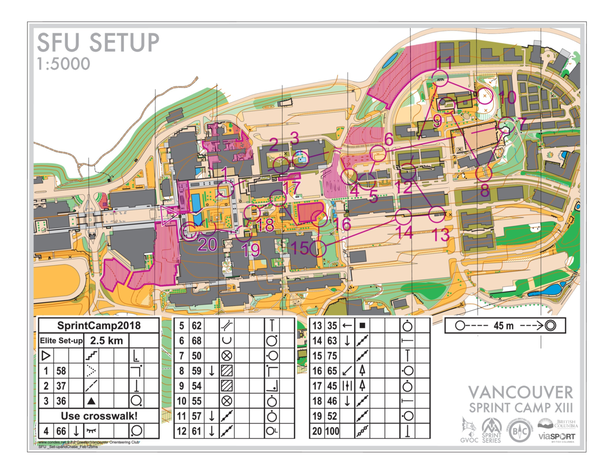 SFU Chase Expert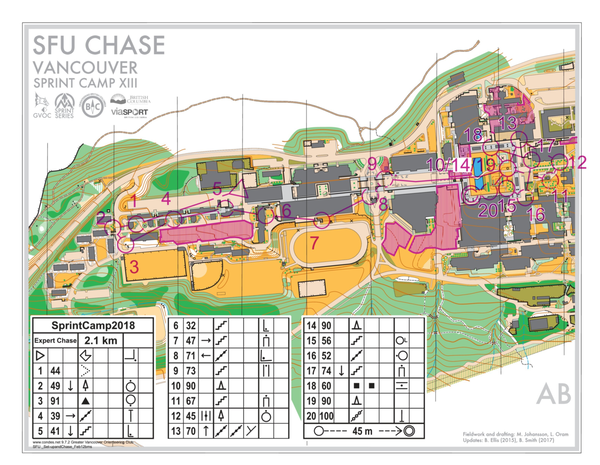 SFU Chase Elite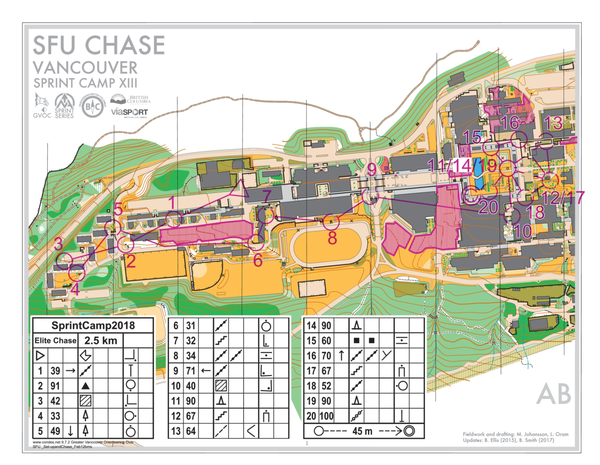 SFU Dice-O Training