McCartney Creek Map information
Statistics
| | |
| --- | --- |
| Scale | 1:10,000 |
| Map standard | ISOM2017 |
| Events on map | 14 |
---
Notes
Alternatives: The Seylynn map covers this area and Lynn Valley to the west.
Master map: McCartney Creek is part of the Super SeyLynn master map. If making changes to the map, please edit the master map rather than this "printable" McCartney Creek map.

Printed size: Letter.
Downloads: There is one OCAD file for this map. Download it using the link at the top of the page.

---
Map image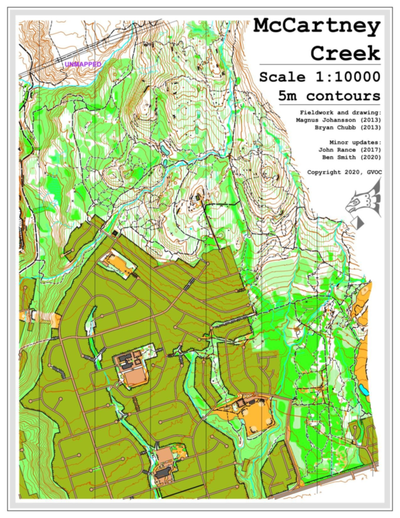 ---
Events on this map
| | |
| --- | --- |
| McCartney Creek (WET) | Sep 15, 2010 |
| McCartney Creek (WJR) | May 12, 2013 |
| McCartney Creek (WJR) | May 11, 2014 |
| McCartney Creek (WJR) | Apr 19, 2015 |
| McCartney Creek - North Van (WET) | May 18, 2016 |
| McCartney Creek (WJR) | Apr 23, 2017 |
| Forest Training Camp (AD) | Apr 30, 2017 |
| McCartney Creek (WJR) | Mar 18, 2018 |
| McCartney Creek - training (WET) | Jun 27, 2018 |
| WJR -Forest Navigation Training at McCartney Creek (WJR) | Mar 17, 2019 |
| McCartney Creek (WET) | Aug 21, 2019 |
| McCartney Creek (WJR) | Feb 9, 2020 |
| McCartney Creek Bonus (WVT) | Dec 27, 2020 |
| Forest Training 3 - McCartney Creek (Major) | May 15, 2021 |
Location