Princess Park Map information
Statistics
| | |
| --- | --- |
| Scale | 1:5,000 |
| Map standard | ISSprOM |
| Events on map | 18 |
---
Notes
Printed size: Legal or letter
Downloads: There are two OCAD files for this map:
The full map is printed on legal paper, as shown in the preview image. It can be downloaded using the link at the top of the page.
A reduced map not including Argyle Secondary School fits on letter paper, and can be downloaded from Princess_Park_5000_Letter.ocd.
---
Map image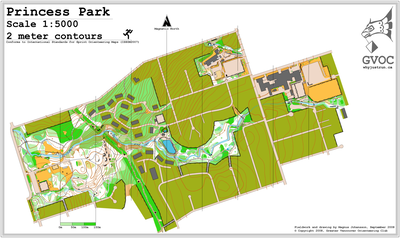 ---
Events on this map
| | |
| --- | --- |
| WET 2 - Princess Park (WET) | Sep 10, 2008 |
| Princess Park (WET) | Jun 3, 2009 |
| Princess Park (WET) | Mar 24, 2010 |
| Princess Park (WET) | Jun 23, 2010 |
| Junior Session - Princess Park | Apr 22, 2010 |
| Princess Park (WET) | May 4, 2011 |
| Junior session #1 - Princess Park | Apr 28, 2011 |
| Princess Park (WET) | Jun 6, 2012 |
| Princess Park (WET) | Jul 17, 2013 |
| Princess Park (WET) | May 28, 2014 |
| Princess Park, North Van (WET) | May 6, 2015 |
| Princes and Princesses WET (WET) | Jun 1, 2016 |
| Princess Park (Adventure & O-Dash Courses) (WET) | Mar 22, 2017 |
| Princess Park (WET) | Mar 7, 2018 |
| Princess Park (WET) | Aug 1, 2018 |
| Princess Park (WET) | Jun 12, 2019 |
| Princess Park (SOC) | Aug 15, 2021 |
| Contours Training at Princess Park - warm up for the Forest Training Series (WET) | Apr 6, 2022 |
Location