Mt Sumas - Pig War! Why Just Run
July 10th 2016 11:00am - 12:30pm
Course Maps
C8 - M21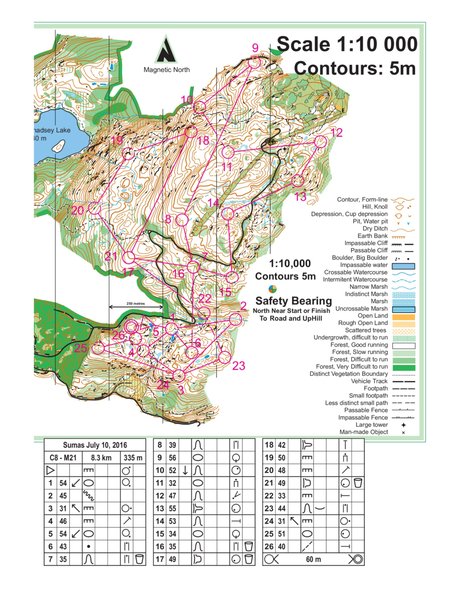 C7 - W21, M17, M35, M45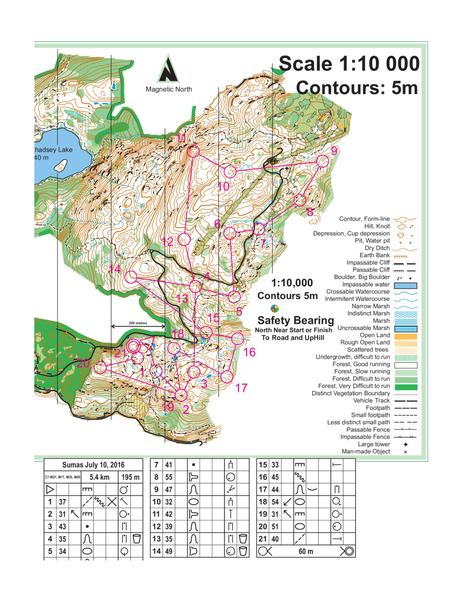 C6 - W17, W35, W45, M55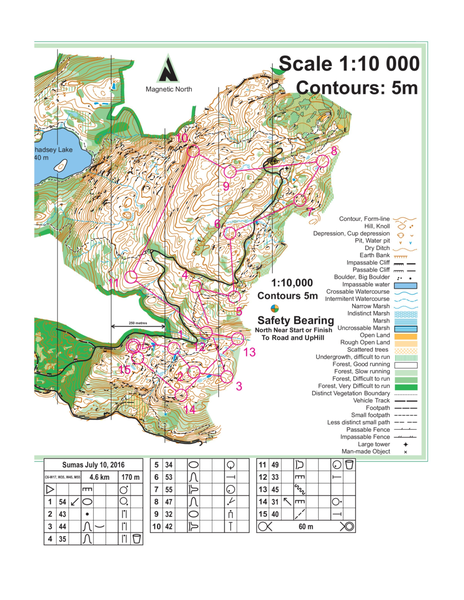 C5 - W55, M65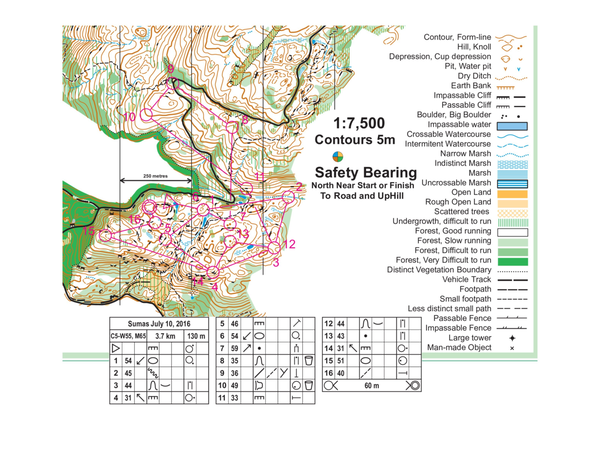 C4 - W65, M75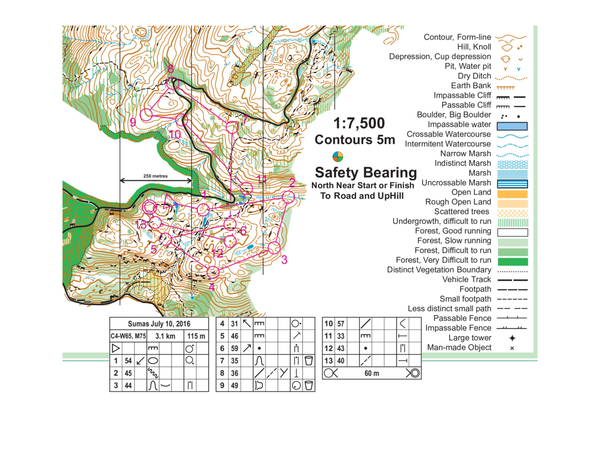 C3 - W15, M15,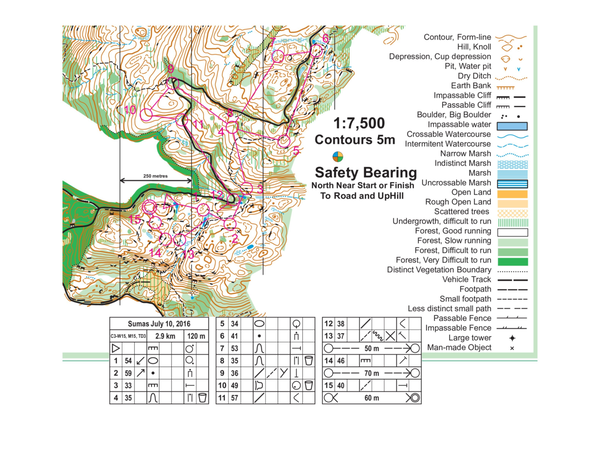 C2 - W13, M13, Trail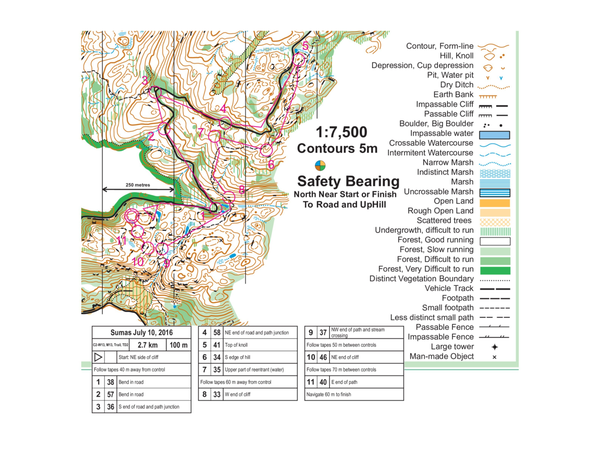 Beginner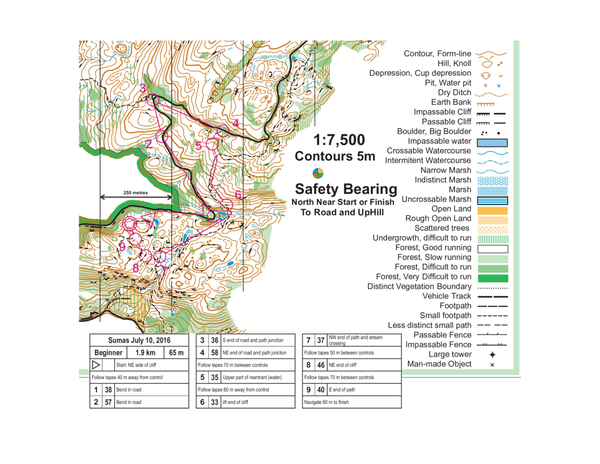 Organizers: Stan Woods (Event Director), George Pugh (Organizer), Adam Woods (Coach), Scott Muma (Assistant), Hilary Anderson (Assistant), Brian Ellis (Assistant), Marg Ellis (Assistant), Bruce Rennie (Course Planner), Joanne Woods (Event Director)
Map: Sumas Mountain
Team results
Canada 40 - 33 USA (with supporting troops from Sweden)
Canada wins!

Background

This event will resurrect the inter-club competition between GVOC and Cascade (Washington). For those unaware, the Pig War on the San Juan Islands went something like this: man shoots pig, US sends in the army, British Empire sends five warships, politicians decide it's all a bit silly and order everyone to stand down. Total loss of life: 1 pig.
Scoring system
The event will be regular point-to-point courses, with the following scoring system:
Each course will have a set of recommended age groups. Competitors will count for their club if they run the recommended course, or a harder one.
Any competitor identifying as "Canadian" will count for GVOC. Cascade may challenge nationality if they believe the competitor is wearing insufficient plaid, or is not ending most sentences with "eh?".
Any competitor identifying as "American" will count for Cascade. GVOC may challenge nationality if the competitor is not wearing at least one American flag, or does not sing the national anthem before starting the course.
Any challenges about a competitor's chosen nationality/club will be ignored.
The top 3 men and top 3 women on each course will score points (except for the longest course, where just the top 3 competitors will count). Top man/woman scores 3 points, second man/woman scores 2 points, third man/woman scores 1 point.
The winner is the club with the most number of points (summed over all genders and courses).
It is several years since we last held a Pig War, and the trophy has gone AWOL! If you know the whereabouts of the trophy, please get in touch with Ben Smith.
Event details
Starts available between 11:30am and 12:30pm. If possible, we would like people running longer courses to start early, and people on different courses can start at the same time. Course closes at 2:30 pm. Spikes, or good trail runners are recommended.
Sumas Mountain is a 900 metre high forested hill, located directly Northwest of the TransCanada Hwy1 between Abbotsford and Chilliwack. Much of the area is runnable open forested terrain, with rich contour, marsh and rock features. A very enjoyable area to orienteer, a map not to be missed. The longer courses (Courses 6 to 8) will be 1:10,000 scale (1 cm = 100 m) with 5 meter contours. The shorter-easier courses will be 1:7,500 scale (1cm =75m) with 5 meter countours. All courses will have more up and down elevation change, along with some steep slopes, than is typical at the Vancouver area WETs. Running speed will be slower than you might think because of the elevation change and navigation and route choice will be important. All courses will have controls where there is drinking water and these controls will have the water symbol in the far right column of the control description. Separate control descriptions will be available for courses 3 to 8. Controls descriptions for the Beginner course and course 2 will be printed on the map with a text description. Courses 2 to 8 all have recommended age groups for experienced orienteers with good forest orienteering skills, who are reasonably fit. Beginners of any age should register for the Beginner Course. An adult who has orienteered a few times and is reasonably fit should register for Course 2. Course 8 (M21) is much longer, and more physical, than in previous years and the winning time is expected to be about 85 minutes for a top Elite runner. Only Elite men in the 21 to 34 age group should enter this class. Course 7(W21, M17, M35, M45) is designed so that an Elite W21 will have a winning time of about 70 minutes. Course 6(W17, W35, W45, M55) is designed so that an Elite W35 or M55 will have a winning time of about 60 minutes.
Course Summary for Sumas, Sunday, July 10, 2016
| | | | | | |
| --- | --- | --- | --- | --- | --- |
| Course | Technical Difficulty | Controls | Length | Climb | Map Scale |
| C8 - M21 | 5 | 26 | 8.3 km | 335 m | 1:10,000 |
| C7 - W21, M17, M35, M45 | 5 | 21 | 5.4 km | 195 m | 1:10,000 |
| C6 - W17, W35, W45, M55 | 5 | 15 | 4.6 km | 170 m | 1:10,000 |
| C5 - W55, M65 | 4 | 16 | 3.7 km | 130 m | 1:7,500 |
| C4 - W65, M75 | 4 | 13 | 3.1 km | 115 m | 1:7,500 |
| C3 - W15, M15, TD3 | 3 | 15 | 2.9 km | 120 m | 1:7,500 |
| C2 - W13, M13, Trail, TD2 | 2 | 11 | 2.7 km | 100 m | 1:7,500 |
| Beginner | 1 | 9 | 1.9 km | 65 m | 1:7,500 |
Directions
There is a limited parking at the event site, so please carpool as much as possible. To get to the start of the map take exit 95 from Hwy1 and go east 2 km on North Parallel Road and then turn west and follow Lower Sumas Mountain Rd North and follow for about 20km (it turns into Upper Sumas Mountain Road). Follow signs for Sumas Mountain Regional Park that direct you to turn right at Batt Road. Then after 1 km on Batt Road turn right again at Taggart Road onto a gravel road. After 0.5 km there is a right turn-off to the Sumas Mountain Staging Area parking lot if you want to use the washroom. From this Staging Area keep on the main gravel road about another 4 km, until you reach the Chadsey Lake Trail Parking Lot at about 4.8 km up from the end of the pavement on the km markers. There is a washroom about 30 down the trail to Chadsey Lake. This is the closest washroom to the event area, which is about 600 meters further up the road. If there is room, please park at this parking lot. Otherwise, continue up the road to the Gate about 450 m past the Chadsey Lake parking lot. There is room for 5 or 6 cars to park near the gate, so please park here if there is room. The event site is about 150 m past the Gate (much closer to the Gate than in previous years) and is visible from the gate. Someone will be at the gate to let vehicles past to park along the side of the road, not blocking the road, between 100 m past the gate and 600 past the gate. If possible, please try and arrive at the gate between 11:00 and 12:00 to keep logistics simple.
---
Location