Lynn Valley Map information
Statistics
| | |
| --- | --- |
| Scale | 1:15,000 |
| Map standard | ISOM2017 |
| Events on map | 14 |
---
Notes
Alternatives: Seylynn extends further to the east, and Rice Lake extends slightly further to the north.
Master map: Lynn Valley is part of the Super SeyLynn master map. If making changes to the map, please edit the master map rather than these "printable" Lynn Valley maps.

Printed size: Tabloid.
Downloads: There are several OCAD files for this area:
The "regular" map is 1:15000 and shown in the preview image. It can be downloaded using the link at the top of the page.
A 1:10000 version zooms in on the central part of the map, and can be downloaded from LynnValley_10000_Tabloid.ocd.
Rice Lake has a separate map page and is a 1:10000 zoom of the northern part of the area.
---
Map image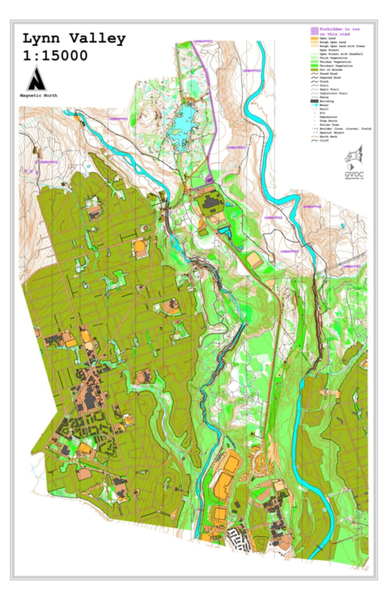 ---
Events on this map
| | |
| --- | --- |
| North Shore Long Distance (WJR) | Oct 19, 2014 |
| Lynn Valley (WET) | May 20, 2015 |
| Pre Christmas Training & Social (SOC) | Dec 20, 2015 |
| Lynn Valley Adventure Run (WJR) | Oct 23, 2016 |
| Lynn Valley Adventure Run (Major) | Dec 10, 2017 |
| Lynn Valley (WET) | Aug 2, 2017 |
| Super Mini Itsy Bitsy Barkley (Major) | Nov 12, 2017 |
| Lynn Valley Adventure Run (WJR) | Oct 21, 2018 |
| Test event for timing tests | Jun 9, 2018 |
| Lynn Canyon (WET) | Apr 24, 2019 |
| Upper Lynn Valley (WVT) | May 4, 2020 |
| MTBO Seymour Score-O (MBO) | Jul 11, 2021 |
| Lower Lynn (WET) | Aug 4, 2021 |
| Lynn Valley Adventure Run (WJR) | Oct 16, 2022 |
Location