WJR - Whistler - Lost Lake - Day 1 of 2 Why Just Run
June 8th 2019 12:30pm - 4:00pm
Organizers: Laurent Mingo (Event Director), Kean Williams (Course Planner), Mike Rascher (Controller), Safder Raza (Coach), Kate Knapp (Coach), Chris Benn (Organizer), Ingrid Weisenbach (Membership), Elizabeth Kleynhans (Membership), Gwenn Flowers (Assistant), Holly Hendrigan (Assistant), Nathan Detroit Barrett (Assistant), George Pugh (Assistant), Karen Lachance (Membership)
A 2-day event in Whistler. This page details Day 1. The second day's info is here.
Results
Lost &Founds
1 compass : Nesters Hills
1 whistlev : Lost Lake
1 set of 2 U-lock (?) keys: Lost Lake
Email "laurentdbm at gmail" to sort it out.
General Location: https://goo.gl/maps/oUzZHAdjzA32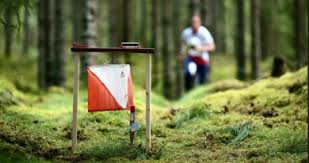 Plan:

First WJR event early afternoon on Saturday so everybody has time to arrive
Lost Lake
is a very interesting map with positive and negative topography, trails, runnable forest, thicker forest, cliffs, contour lines, and the odd
ursus americanus.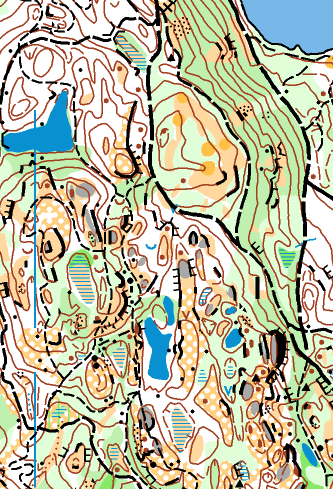 Schedule:

Register on-line before Thursday 9:00pm please, so we can insure you will get a map.
Event opens and Registration starts at 12:30 pm : Please consider bringing cash for both days registration on Saturday to streamline the registration process. Thank you.

Participants can start in any order from 1 pm to 2 pm within a 2-minute interval for the same course's runners.


Course closure: 3:30 pm

Refreshment & re-hydration

Potluck on Saturday evening at Whistler Athletes Centre (WAC)
Course Specifics:

Map Details
Scale: 1:7,500 (except Beginner 1:4000)
Contours: 5m
Special Symbols: Disk Golf Tees and Baskets
Tread lightly

Some wetland area(s) are out-of-bounds as indicated by the usual red/purple hashing on the maps (example below). They must not be crossed as requested by the Resort Municipality of Whistler (RMOW)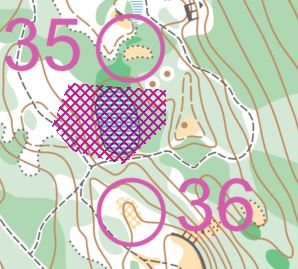 More generally, in some of the more humid regions on the map(s) you will see moss-covered bedrock here and there. Please avoid wear and tear and go around these spots as per RMOW's request.
Potential Hazards

Some cliffs
If rainy, as usual, logs and wood structures used on mountain bike trails will be especially slippery. These must be avoided

as they are also

high above ground and meeting a rider there would be unwelcome
Mountain bikers (!): especially on the smaller trails (keep your head up)

A few trails have mountain biking structures such as ramps and bridges. You must stay clear from these to not impede riders, as this would create a hazardous situation for both runners and mountain bikers should they come face to face on these structures
Some black bears, sometimes are around. They usually run, the question is whether they decide to run away from you (most of the time) or towards you (on occasion).

Potential for wasps at this time of the year in some of the humid spots. Keep you eyes open.

Mosquitoes will probably have hatched by then. In this case they can be in vast numbers and tend to hunt in large groups.

Parking:
There is very few or no parking in Whistler outside of designated spots.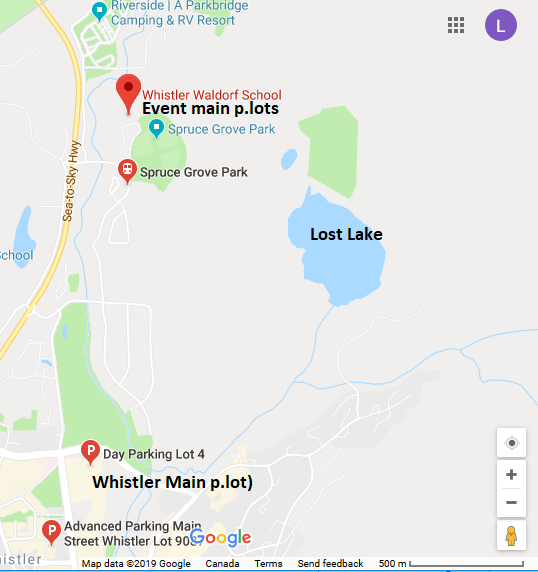 Accommodation options and info:

(a)Whistler Athletes Centre (WAC) 1080 Legacy Way Whistler
Email or phone at 604-964-0052 .The Front Desk is available daily from 7:00am to 11:00pm.

There are 4 room types:
WAC is about 15-20 min by car to the starts for each day. Whistler Municipality Transit is also available from this location

(b) Whistler HI Hostel1035 Legacy Way Whistler

whistler@hihostels.ca 1.866.762.4122 1.778.328.2220
(c) Whistler RV Park & Camping55 Hwy 99 Whistler

There is ~ 40 tent sites with water 29$ (2 adults , 2 children, extra adult 10$, extra children 5$.
Located about 20-25 min by car to course starts. No transit.

(d) CalCheak Recreation site (no water apparently (?), so bring some if you go there), ~ 15$ per site, 50 sites, first come first serve.
Located about 20-25 min by car to course starts. No transit. Map


(e) Whistler RiverSide RV and Campground site, ~ 45$/site. Map

Located about 5 min by car to course starts. Walkable also.
Pic credit: OK Linné

---
Location