Cypress Falls Why Just Run
March 13th 2016 10:00am - 12:00pm
Organizers: James Golding (Event Director), Rachel Howard (Course Planner), Robyn Rennie (Permit), John Rance (Controller), Brian Poole (Assistant), Jeremy Gordon (Assistant), Chris Benn (Assistant), Reid Howard (Assistant)
Map: Cypress Falls
Results and splits at: http://obasen.orientering.se/winsplits/online/en/d...
Thanks to everyone who came out for a great event today at Cypress Falls Park.
We were incredibly lucky to have 6 great courses in a great little forest AND have the rain, wind and thunder hold off for the duration of the event.
Well done to everyone who competed, and thank you to the many people who put in so much of their time before, during and after the event to help everything go smoothly.
Special thanks to:
Rachel - for planning and setting out excellent courses, if you enjoyed your run - let her know!
John and Karen - for putting out controls, advising, controlling, registering and collecting money, waiting patiently for spouse, helping take down the registration/finish area
Joanne and Stan - helping set up the registration and finish, running the start, being super hero control collectors in the pouring rain!
Adam - teaching newcomers how to orienteer and being a super hero control collector
Elizabeth and Bill - for being control collecting super heros, and helping take everything down
Brian P, Scott, Jeremy, Emily, Reid and Chris for their help at the start/registration/finish, putting things out, putting things up, taking things down, being all round stars!
Come out to the North Shore for the March Why Just Run orienteering race! Run or walk as an individual, with a friend or even with your entire family!
Cypress Falls Park presents stunning runnable and thick green forest, rock, contour and water features. 5 point to point courses are offered, covering all abilities and age ranges.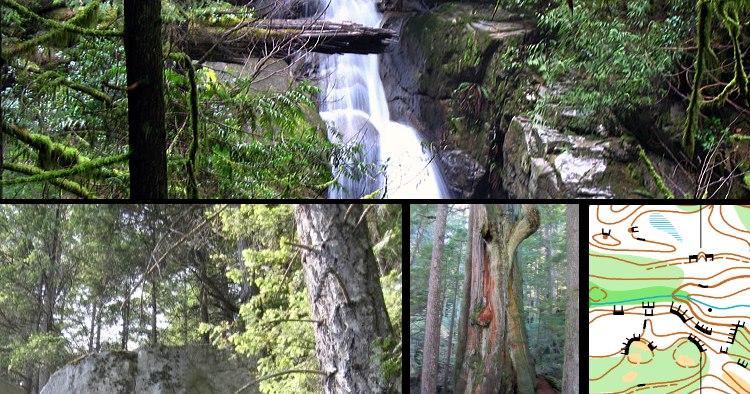 Come along and start at any time from 10am to 12pm (noon). Course closes at 1pm - all competitors must report to the finish.
Location: Registration will be at the east end of the parking lot at the end of Woodgreen Place
Transit: Bus 253 - departs Park Royal at 10:25am and stops 200m from registration
Parking is limited so please consider car pooling, be respectful when parking in residential areas
There are no washrooms in Cypress Falls Park. Nearest washrooms are at retail locations (Starbucks) at Caulfeild village shopping centre, 1km away.
Sign up by 9pm on Friday 11th March to ensure you get a map - limited extras available on the day!
Don't forget your whistle!
Course Setter's Notes:
Use caution when near cliffs and the ravine on the east side of the map.
There have been wind storms since this area was mapped... a lot of runnable forest has fall trees and debris.
There are a number of new unmapped trails. Be careful not to let these lead you astray!
Newcomers and beginners:
Sign up for an account with our website and register for the beginner course on the right hand side of this page. Check out the information below for more on what to bring, wear and membership/entry costs. You can find more about what to expect in this facebook photo album and also: here
When you arrive, look for us at the registration tent. We will sign you up and give you a quick introduction on how to orienteer if you need it. We will give you a map and lend you a compass and an electronic timing stick - return the compass and stick at the finish and we will give you a printout showing your results for each leg.
---
Location