Rice Lake Map information
Statistics
| | |
| --- | --- |
| Scale | 1:10,000 |
| Map standard | ISOM2000 |
| Events on map | 18 |
---
Notes
Alternatives: Rice Lake is part of the extensive Lynn Valley map, which extends much further to the south. The Seylynn map connects to the south east of this map.
Printed size: Legal.
Downloads: A smaller letter-size version can be downloaded from RiceLake_10000_Letter.ocd
Tips for event organisers:
The pagoda/gazebo near the car park has power outlets (you may need to hit "Reset" to turn them on).
There are washrooms and a water fountain near the main car park.
The service road at the east is out of bounds!
---
Map image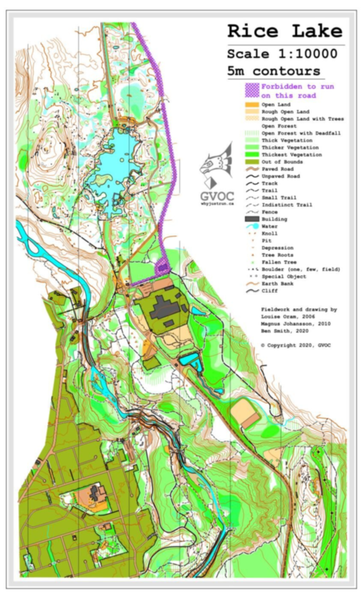 ---
Events on this map
| | |
| --- | --- |
| Rice Lake B-meet (WJR) | Oct 22, 2006 |
| Why Just Run #6 - Rice Lake (WJR) | May 11, 2008 |
| Training at Rice Lake | Jun 1, 2008 |
| Rice Lake (WJR) | May 10, 2009 |
| Rice Lake (WJR) | May 2, 2010 |
| Junior Session - Rice Lake | Jun 3, 2010 |
| Rice Lake (WJR) | May 8, 2011 |
| Junior Session #6 Rice Lake | Jun 2, 2011 |
| Lynn Valley Adventure Run (WJR) | Nov 6, 2011 |
| Rice Lake (WJR) | May 13, 2012 |
| Lynn Valley Adventure Run (WJR) | Oct 14, 2012 |
| Lynn Valley (WET) | Apr 10, 2013 |
| Rice Lake (WJR) | Jun 22, 2014 |
| Rice Lake (WET) | Sep 17, 2014 |
| Rice Lake (WET) | Jul 15, 2015 |
| Rice Lake, including Lower Mainland Cadet Championships (WJR) | May 15, 2016 |
| Rice Lake (WJR) | Sep 17, 2017 |
| Rice Lake WET (WET) | May 16, 2018 |
Location