Queen's Park Map information
Statistics
| | |
| --- | --- |
| Scale | 1:4,000 |
| Map standard | ISSprOM |
| Events on map | 19 |
---
Notes
Printed size: Letter
Downloads: There are two OCAD files for this area:
The sprint map (shown in the preview image) is a 1:4000 scale sprint map. It can be downloaded using the link at the top of the page.
An older 1:7500 tabloid size map can be downloaded from Queens_Park.ocd. This map extends beyond the main park in all directions.
---
Map image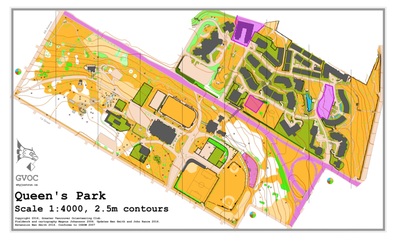 ---
Events on this map
| | |
| --- | --- |
| DET Final - Queen's Park, New Wes | Apr 24, 2004 |
| WET # 16 - Queen's Park (WET) | Dec 17, 2004 |
| WET 14 and party! - Queen's Park (WET) | Dec 13, 2006 |
| WET 24 - Queen's Park (WET) | Mar 21, 2007 |
| WET #15 - Queen's Park, New Westm (WET) | Jan 16, 2008 |
| WET 4 - Queen's Park (WET) | Sep 24, 2008 |
| Queen's Park (WET) | Jan 6, 2010 |
| Queen's Park (WET) | Mar 2, 2011 |
| Queen's Park and Christmas Potluck!! (WET) | Dec 21, 2011 |
| Queen's Park (WET) | Mar 20, 2013 |
| Queen's Park (WET) | Dec 4, 2013 |
| Queen's Park (WET) | Oct 15, 2014 |
| Queen's Park (New Westminster) (WET) | Nov 4, 2015 |
| Queens Park, New Westminster (WJR) | Feb 12, 2017 |
| Queen's Park (Rance Special) (WET) | Nov 1, 2017 |
| Queen's Park (WET) | Nov 7, 2018 |
| Queens Park (WET) | Jul 24, 2019 |
| Queens Park (WVT) | May 25, 2020 |
| Queen's Park: Bearings Practice (WET) | Apr 20, 2022 |
Location