Lynn Valley Adventure Run Why Just Run
October 15th 2023 8:00am - 2:00pm
Organizers: Alistair Howard (Event Director), Nathan Detroit Barrett (Event Director)
Map: Super SeyLynn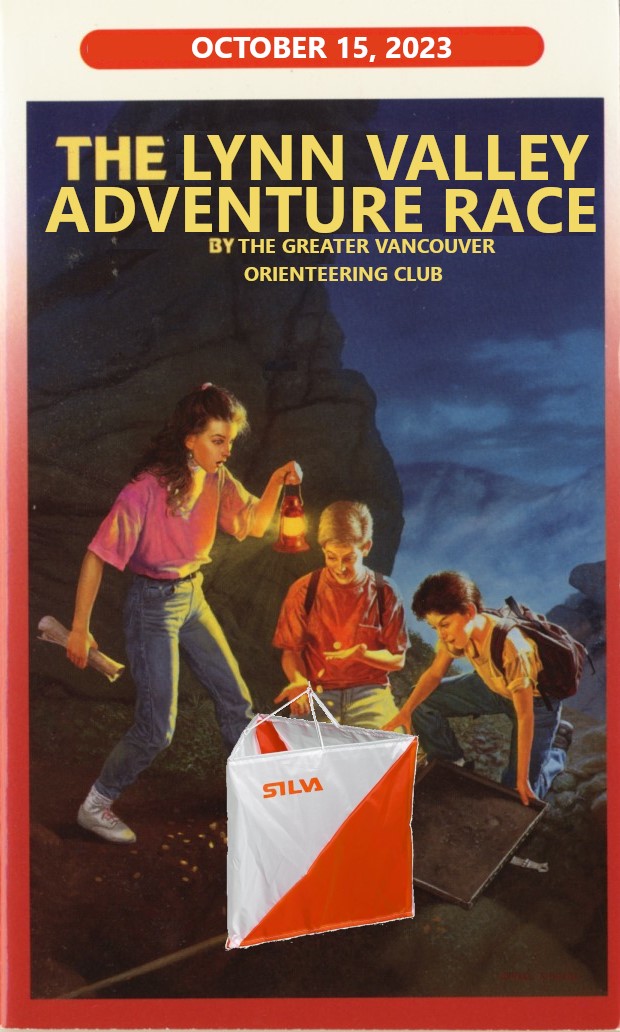 Come join us the Lynn Valley Adventure Race, a North Shore classic. This year's event will include mass-start 3 hour and 6 hour options in the traditional Score-O format (with SI/electronic scoring).
The objective is to collect a maximum of points within a given amount of time (3 or 6 hours). Each control will be worth a fixed amount and each minute late getting back will reduce your point total. You will lose 20 points for every minute that you are back late.
This year we're planning to explore to Fromme side of the map (but we will definitely also give you the chance to visit Seymour).
Map/Terrain

The "Super Seylynn" map now covers the area from Mosquito Creek to Deep Cove at 1:15000 scale, with 5m contours, and utilizes sections of the Lynn Valley/Braemar/Lower Seymour/Rice Lake/McCartney Creek maps.
The terrain around the North Shore is a nice mix of beginner friendly trails and roads that are closer to the start/finish and some more technical terrain further away. Forest areas are often fairly open, for West Coast standards. Expect generous amounts of elevation gain:)
Start/Finish Location and Parking
The start and finish is TO BE DETERMINED. But somewhere in Lynn Valley!
Schedule
8:00am: 6 hr map handout and course planning
8:10am: 6 hr course start
10:30 am: 3 hr map handout and course planning
10:40am 3 hr course start
1:40pm to 2:10pm: Finish!
Note: registration will open at 7:15 am and close ~15 minutes before the start.
Youth
This is a great event for young orienteers and adventurers (12+). There will be lots of urban and on trail navigation areas and they can run/adventure as small teams with friends. And they can of course run as short or as long as they want (as long as they are back by 2:10pm).
Registration and Payment
***Registration is open until Saturday, October 14th at Noon***
All runners must pre-register and pay before the event.
Single Adults - $25

Single Youth - $5
Adult Team - $40 - we can't get the registration system to deal with teams so if you are a member of a team, register as an individual, tell us who is in your team and use the TEAM coupon code in the cart for a discount. We will try to sort out the teams on the day as well.
Youth Team - $5 per runner - please run as a team - it's way more fun!
We will use SI/SI-AIR this year and will have both available to lend out at the start.
Partners/teams
Score-O/Rogaines (and adventures) are way more fun when they are shared experience. And longer rogaines are always run with a partner. We will reward teams who run in pairs (10% score penalty for solo runners). And we are happy if you want to run/walk with a larger team.
Safety
Prepare to be self-sufficient for the duration of your run!
All competitors must report to the finish, so we know you're safe.
Whistles must be carried. If you don't have a whistle, you may purchase one at registration.
BE BEAR AWARE! Become bear aware, and consider carrying bear spray if you're on a longer course and are nervous about bear encounters.
We will mark the location of known drinking water sources on the map, but there is no guarantee that they will be operational on the day (they shouldn't have been turned off for winter yet, but no promises). All the water refill stations are close to public washrooms.
Consider taking some food if you're on the 3h/6h courses.
You may carry a cellphone for emergency usage. Please respect the spirit of the event, and don't use the GPS functionality unless you're hopelessly lost and concerned for your safety. The event director's number will be printed on the map. Note that some areas of the map do not have cell signal.
Major rivers can only be crossed on bridges.
Beware of mountain bikers, especially on the eastern half of the map.
---
Why Just Run
What should I bring? Wear something comfortable that you don't mind getting a little dirty! If it's wet outside, you might want to consider a change of shoes and socks! A compass is optional (we have extra ones for borrowing). For added safety, a whistle is mandatory for all GVOC events. Read more in the WJR Introduction to Orienteering.

How much does it cost? Regular "Why Just Run:" events cost adult: $10 / under 20: $5 / family discount (adult(s) with children) 40% (we now accept credit and debit cards on site). Some special events may cost a little more, and this will be made clear in the event detail above.
Refunds: If a participant is unable to attend an event for any reason the event organizer may refund the event fees (at their discretion) but the processing fees will not be refunded. If an event is changed or cancelled by GVOC and participants request a refund, the processing fees will be refunded.

Club membership is also required: See details on the club home page. Please complete before your first event!
---
Location