Pacific Spirit Park Map information
Statistics
| | |
| --- | --- |
| Scale | 1:15,000 |
| Map standard | ISOM2000 |
| Events on map | 27 |
---
Notes
Printed size: Tabloid.
Downloads: There are two OCAD files for this map:
The regular map just covers Pacific Spirit Park (shown in the preview image), and can be downloaded using the link at the top of the page.
The "master" map includes Pacific Spirit Park, UBC (very old!) and Jericho Beach Park. It can be downloaded from Pacific_Spirit_Park.ocd, but is not recommended for use until UBC has been updated. This version is slightly larger than tabloid size.
---
Map image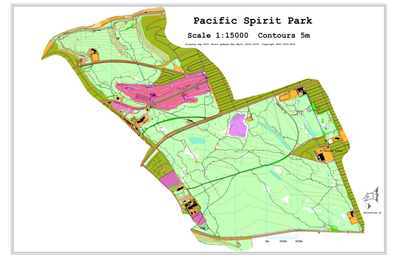 ---
Events on this map
| | |
| --- | --- |
| WET #15 - Pacific Spirit Park (WET) | Dec 15, 2003 |
| Spring Ramble - Pacific Spirit Pa | Apr 4, 2004 |
| Determinator #1 - Pacific Spirit | Oct 19, 2003 |
| SET#2 - Pacific Spirit Park | Jun 21, 2004 |
| WET # 4 - Pacific Spirit Park - C (WET) | Sep 27, 2004 |
| Determinator #1 - Pacific Spirit | Sep 18, 2004 |
| Determinator 4 - Pacific Spirit P | Jan 15, 2005 |
| Pacific Spirit Sprints | Feb 26, 2006 |
| WET 3 - Pacific Spirit Park, Camo (WET) | Sep 27, 2006 |
| WET 29 - Pacific Spirit Park (WET) | Apr 25, 2007 |
| WET #3 -- Pacific Spirit Park (WET) | Oct 3, 2007 |
| WET #9 -- Pacific Spirit Park, Ca (WET) | Nov 14, 2007 |
| Pacific Spirit Running Series - # | May 12, 2008 |
| Pacific Spirit Running Series - # | May 26, 2008 |
| Pacific Spirit Running Series - # | Jun 2, 2008 |
| Pacific Spirit (WJR) | Jan 31, 2010 |
| Pacific Spirit Score-O (WJR) | Jan 23, 2011 |
| Pacific Spirit Park Score-O (WJR) | Jan 15, 2012 |
| Pacific Spirit Park (WJR) | Jan 13, 2013 |
| Pacific Spirit Park Score-O (WJR) | Jan 19, 2014 |
| Pacific Spirit Park (WJR) | Jan 25, 2015 |
| Pacific Spirit Park (WJR) | Jan 17, 2016 |
| Pacific Spirit Park SuperWET (SWET) | Aug 16, 2017 |
| Pacific Spirit Park - Club Run! (WJR) | Nov 18, 2018 |
| WJR - Pacific Spirit Park (WJR) | Sep 22, 2019 |
| Pacific Spirit Isolation Rogaine (Score-O) (WVT) | Apr 13, 2020 |
| Pacific Spirit Park Laid Back Training Rogaine (WJR) | Jun 19, 2021 |
Location