Mundy Park Map information
Statistics
| | |
| --- | --- |
| Scale | 1:5,000 |
| Map standard | ISSprOM |
| Events on map | 12 |
---
Notes
Printed size: Letter.
Downloads: There are 2 versions of this map:
The newer 1:5000 sprint map is shown in the preview image and covers the western part of the park.
The older 1:10000 map covers the whole park and can be downloaded from Mundy_Park.ocd. Note that OCAD may think the map is 1:7500 scale, though it is really 1:10000. Be careful when planning courses with this file!
---
Map image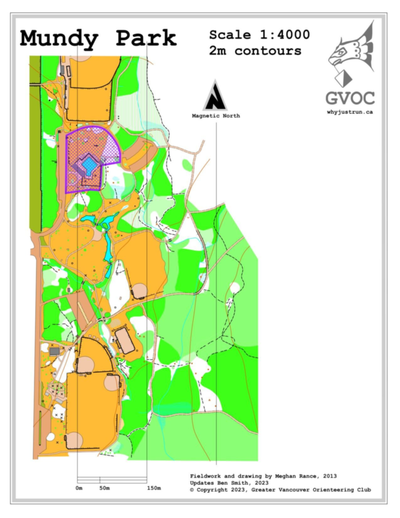 ---
Events on this map
| | |
| --- | --- |
| Determinator #2 - Mundy Park | Nov 16, 2003 |
| DET #2 - Mundy Park Coquitlam | Oct 30, 2004 |
| UOA - Mundy Park, Coquitlam | Jul 15, 2004 |
| Mundy Park (WET) | Jul 4, 2012 |
| Mundy Park (WET) | Sep 4, 2013 |
| Mundy Park (WET) | Aug 13, 2014 |
| Mundy Park (WET) | Dec 2, 2015 |
| Western Canadian Orienteering Championships & Pig War (REG) | Jul 7, 2018 |
| Mundy Park (WET) | Jan 1, 2020 |
| Vampire O' (SOC) | Oct 31, 2021 |
| Moody Park (WET) | Dec 1, 2021 |
| Mt Fromme Scramble (WVT) | Dec 21, 2021 |
Location