Statistics
| | |
| --- | --- |
| Scale | 1:15,000 |
| Map standard | ISOM2000 |
| Events on map | 3 |
---
Notes
Alternatives: Seylynn combines Lynn Valley to the west and McCartney Creek to the east. Rice Lake connects to the north west of this map.
Printed size: Tabloid
Downloads: There is one OCAD file for this map - download using the link at the top of the page.
A work-in-progress version of the map that is based on LIDAR contours can be found at SuperSeyLynn_NewContours.ocd. The contours have been smoothed, but have not been manually adjusted/interpreted across the whole map. There are sections where non-contour features are in the wrong location relative to the contours (for example where a path on the original map hugged the top of a ravine, but the ravine has now "moved" due to the more accurate contour data; the path has not been moved to hug the top of the new ravine yet). This is most problematic in the LSCR and Rice Lake sections of the map.

---
Map image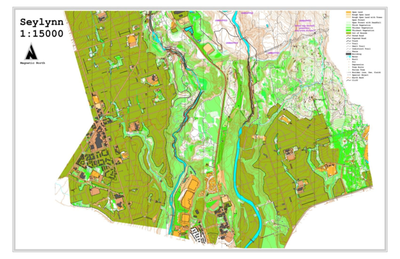 ---
Events on this map
Location