Jericho Beach Map information
Statistics
| | |
| --- | --- |
| Scale | 1:4,000 |
| Map standard | ISSprOM |
| Events on map | 38 |
---
Notes
Printed size: Letter/Legal/Massive.
Downloads: There are 3 OCAD files for this map:
The master map (shown in the preview image) contains the full map (which is bigger than tabloid size) and can be downloaded using the link at the top of the page.
Jericho_4000_Legal.omap is a printable map (legal size) that focuses on the northern part of the map (it doesn't go below 4th Ave). This is the map that is most often used for events.
JerichoSouth_4000_Letter.omap is a printable map (letter size) that includes the area south of 4th Ave.
Note for club mappers: If you are editing this map, please edit the MASTER map, then propagate the changes to the printable maps. If you don't do this, we end up with "version shear", where the various map files get out of sync with each other.
---
Map image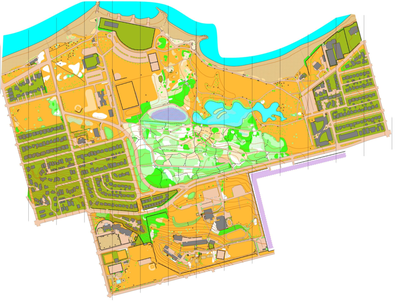 ---
Events on this map
| | |
| --- | --- |
| WET #5 - Jericho Beach Park (WET) | Oct 6, 2003 |
| WET #29 - Jericho Beach Park (WET) | Apr 12, 2004 |
| UOA - Jericho Beach, Vancouver | Aug 5, 2004 |
| SET#6 - Jericho & Pacific Spirit | Jul 19, 2004 |
| WET # 7 - Jericho Beach Park (WET) | Oct 18, 2004 |
| WET #25 - Jericho Beach Park *NEW (WET) | May 2, 2005 |
| WET #26 - Jericho Park *NEW MAP* (WET) | May 16, 2005 |
| WET 6 - Jericho Beach Park (WET) | Nov 9, 2005 |
| WET #23 - Jericho Beach Park (WET) | Apr 5, 2006 |
| WET 4 - Jericho Beach Park (WET) | Oct 4, 2006 |
| WET 15 - Jericho Beach (WET) | Jan 17, 2007 |
| WET #14 - Jericho Beach Park (WET) | Jan 9, 2008 |
| WET #39 - Jericho Beach Park (WET) | Jul 9, 2008 |
| WET 11 - Jericho Beach (WET) | Nov 12, 2008 |
| Jericho Beach Park (WET) | Apr 29, 2009 |
| Jericho Beach (WET) | Jun 10, 2009 |
| Jericho Beach (WET) | Oct 7, 2009 |
| Jericho Beach (WET) | Mar 10, 2010 |
| Jericho Beach (WET) | May 12, 2010 |
| Jericho Beach (WET) | Aug 11, 2010 |
| Jericho Beach (WET) | Jun 16, 2011 |
| Set-up/Chase Sprint (WJR) | Feb 13, 2011 |
| Jericho Beach (WET) | Nov 30, 2011 |
| Jericho Beach (WET) | Aug 1, 2012 |
| Jericho (WET) | Jan 23, 2013 |
| Jericho Beach (WET) | May 8, 2013 |
| Jericho Beach (WET) | Mar 5, 2014 |
| Jericho (WET) | Jun 18, 2014 |
| Jericho Beach Park (WET) | Jan 28, 2015 |
| Jericho Beach filling station training (WET) | Sep 30, 2015 |
| Jericho Beach O-tervals (WET) | Jun 22, 2016 |
| Jericho Beach - Dog Bones! (WET) | Apr 5, 2017 |
| Jericho Beach (WET) | Apr 4, 2018 |
| WJR "lite" - Jericho + Beach Picnic (WJR) | Jul 14, 2019 |
| Jericho Beach (WET) | Apr 17, 2019 |
| Jericho Beach (WET) | Sep 30, 2020 |
| Jericho Beach (WET) | Jun 30, 2021 |
| Jericho Beach Scatter (WET) | Feb 2, 2022 |
Location