Brandywine Training Event Athlete Development
August 30th 2020 11:00am - 3:00pm
Organizers: Jeremy Gordon (Event Director), Laurent Mingo (Course Planner), John Rance (Controller), Joanne Woods (Membership), Stan Woods (Assistant), Chris Benn (Assistant), Robyn Rennie (Assistant), Bruce Rennie (Assistant)
Come out to the Forest Training Event at Brandywine, famous (?) for its technical detail. Don't be fooled by the shortness of a course - it's very easy to make a mistake and lose time - see Course Description below.
Note: Printed maps will be provided and will be picked up at Check-in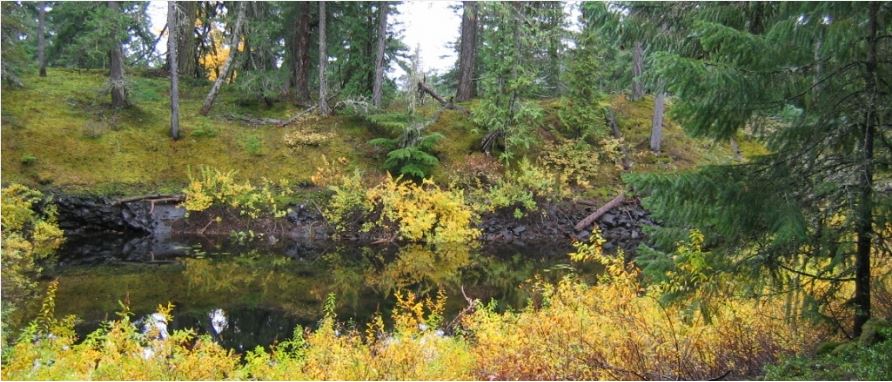 pic. credit: https://www.slrd.bc.ca/services/recreation-culture...

Courses Note (by Laurent Mingo, Course Planner):

If you haven't run on this map before (and even if you have) you are in for a genuine orienteering experience. The terrain is very unique with a mix of pine forest amongst basalt columns, small depressions, cliffs, and a myriad of small lakes peppered over the landscape. It is a great map because most of its features tend to be unfamiliar compared to the other places we run O events throughout the year. It is also generally flat, but still with a lot of micro-topography making for really intricate terrain to navigate through. So, be prepared for a challenge. This is not a beginner's event.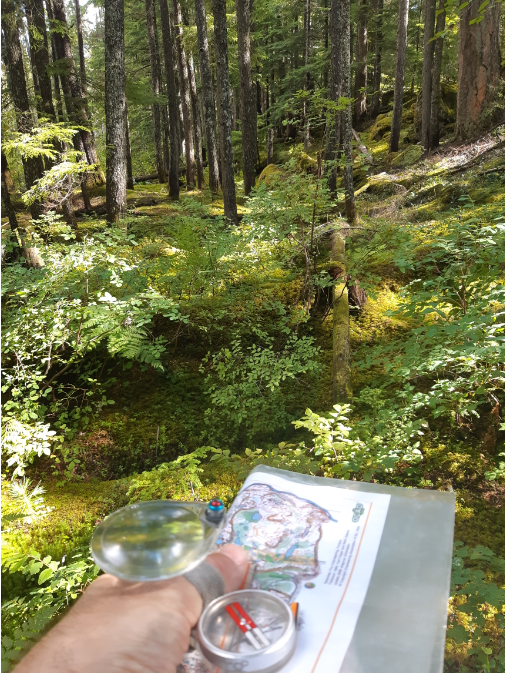 3 options are available, making for 5 courses : the flexible O-course concept!
Don't be misled by the seemingly short overall distance, it is uber-technical in there and you will have to use great care and focus to complete the courses within the time window.
Less Technical: ~ 1.9km - 8 controls . This course is (mostly) on the west quadrant of the map and is a good first choice if you want to get a sense of the difficulty in this new terrain. It is not easy, but there are hand rails you can use and good attack points to be found. The main trail provides a back up, or a mean, to approach many controls if you want to make it easier. You can stay away from the trail and stick to the forest if you want to dial up the navigation challenge.
The Less Technical course can be used as a practise run before choosing one of the other more technical courses.

The 2 other options (in fact 4 courses) are all technically complex and only vary in distance covered. They move into complex terrain throughout. Each set of courses has its shorter variant. You can start with the map that has the longest option, and if you think you are taking too much time, there is bail-out option roughly half-way to switch you over. A dashed line indicates the by-pass like so:
In the above example, if you choose the longer option, you'll go 4,5,6,7,8. If you opt for the shorter variant you'd go 4,7,8 as indicated by the dashed line and you would be back on the shorter of the two courses.
Both sets below follow this principle:

Technical Shorts:

Short Main (Flex): ~ 1.9km - 10 controls.


Short Light: ~ 1.5km - 8 controls

Technical Longs:

Elite (Flex) : 3.6km - 13 controls

Expert: 2.4km - 10 controls
Map Considerations:

a lot of small lakes, which are there year-round
a lot of small ponds and marshes which are more or less prominent depending on how much rain there has been.
Note: Printed maps will be provided and will be picked up at Check-in along with bags (if poor weather)
Navigation Considerations:

Lot of strong features on the map and terrain
The trick is to pick the ones that will help you navigate successfully and efficiently
Stay in contact with your map at all times, otherwise take your medicine rather sooner than later: relocate !
Safety Considerations on the courses:

Especially on the east section of the map where the majority of the controls on the technical courses are located, the ground has a lot of moss-covered football-sized rocks that makes for awkward running. Watch your ankles! For people not planning to move fast on the terrain, or prone to ankle injuries, consider footwear with ankle support. My preference would be for shoes with aggressive thread and no spikes (these are slippery on the moss-covered smooth rocks)

If rainy, this moss on smooth boulders is extremely slippery.

It is black bear country, and there were a lot of blueberries in mid-July already. Bear spray is recommended.

It could be buggy, based on how much stagnant water is around and temperatures...

The main trail running north-south is used for foot and some light mountain bike traffic, so watch out around blind corners.
Aug 22 Update: After yesterday's big rain event, all the little marshes are full and the water features are very strong. It will likely remain like this for next week unless it gets very hot. There were hardly any mosquito today, so it looks good for next week.

Logistics:

Meet location:
Check-in will be at or near the intersection of McGuire Road and Lava Lake Trail in Brandywine Fall Provincial Park (see trail map pdf). You must go to the check-in before going to the Start.

Driving and Parking Instructions: - UPDATED

The recommended parking spot is Brandywine Falls parking lot. (See driving directions below).

As Brandywine Falls parking lot will be very busy, Alex Kerr has provide the following recommendation:

There is a large parking area at the Cal Chek campgrounds, which is actually closer to the assembly area than the Brandywine parking. Carry on to the north for a few kms, and turn right at the sign for Whistler Bungee. The parking area is between the north and south Cal Chek campgrounds. After you park head into the south camping and head for the river, and cross it via a suspension bridge, then follow the path south for about 10 minutes. When you emerge from the forest there is a path to the right across the railway line (take care when crossing), then take the right fork and you are on Maguire Rd. It takes ~15 minutes to get to the intersection with Lava Lake Trail, from where signs will lead to check-in.

If you do park at Brandywine Falls parking lot, walk or bike 2.7 km along Lava Lake Trail northwards towards McGuire Road ("After crossing the covered footbridge over Brandywine Cree from the parking lot, this 2.7 km trail starts left up a short but steep hill then wanders on gentle ground thru pine forest (rare for the coastal environment) and small lake areas to the north end of the park"). See trail map pdf)
An alternative parking spot with very limited parking near the check-in is McGuire Road . Space for 5-8 vehicles (including organisers)

McGuire Road (a gravel road) turns off Hwy 99 about 2.5 km north of Brandywine Falls parking lot.


You cannot turn into McGuire Rd when heading south from Whistler on Hwy 99. To access it, keep driving southbound another km and use the safe entry lane from Brew Creek Forest Road

Leaving McGuire road, you cannot turn left (southbound) on Hw 99, instead use the Callaghan Road for a safe turn around, 500m northbound.
Registration: On the morning of the event registration will be open from 11am to 1pm. Course closure 3pm. You must report back to the start even if you do not complete the course so that we do not send out a rescue team to find you.
Events cost
Individual: $10 / family maximum: $20 (touch less credit card payment. No cash).
Club membership is also required: Please join here - https://zone4.ca/register.asp?id=22841 Membership lasts until the end of the year, and gives you FREE access to all our weekly Wednesday Evening Training events.
Declaration of Health

On the morning of the event you must fill out the "Declaration of Health form" and bring a printed copy of it with you to the event. If you are sick, do not come to the event.

Declaration of health
http://www.orienteering.ca/wordpress/wp-content/uploads/OrienteeringCanada_DeclarationOfHealth.pdf
Physical Distancing:
As we are still in the midst of a pandemic we remind participants that we must all maintain social distancing, hand washing/sanitizing and wearing masks where required. Participants must stay minimum 2m from anyone not in their household bubble and maintain adequate social distance at all time before, during and after running the training course. Participants must follow the directions of event volunteers and maintain 2m spacing during registration and starts.
Do not to touch any of the controls out on course in order to minimize contact points at the event. This event is to be run/walked individually (or within your household bubble), obeying all the social distancing recommendations currently in place.
To help with social distancing and minimize group size, Orienteering Canada guidelines also recommend not socializing at the event site before or after you have done your course.

Guidelines from Orienteering Canada: https://docs.google.com/document/d/1cvhALEizTvdus4b91vferiAbz_6690-hB-EYe3cM5rk/edit
Event safety plan: https://docs.google.com/document/d/1Rh0EIwupfy_IXMmhVsDt3f-YUD7PkMuPZDkS8txJAJo/edit?usp=sharing
As with other recent events, you can register for this event and run it in your own time. However, for your personal safety please let somebody know where you are, and what you are doing. Taking part on your own time is not a sanctioned event; we don't retain any liability for participants. This is a do-at-your-own-risk, training suggestion.

Post-event get-together

To provide an opportunity to socialize after you have run your course we are planning to have a Zoom session on Monday August 31st in the evening, where you can discuss your route choices, routes and splits (or self timed splits (if you do them)). Tentative start time 7:00 pm. A link to the Zoom session will be sent to registered participants.

MapRunF (Optional)
The Brandywine Falls course can be accessed in the MapRunF app under "Select an Event > Canada > British Columbia > Vancouver > Brandywine". For instructions on setting up the phone app, see the pdf document "How to setup and run MapRunF". Note that if you have an android phone that puts the GPS into sleep mode, that causes issues when attempting to use it for this activity. There is another app called GPS Connected which can also be downloaded and used to lock the GPS to the satellites. Remember to unlock it when you have finished the course. Note that we had issues with some of the controls on the course beeping at the correct location so keep this in mind as you complete your run.
Looking forward to seeing you all out in the forest!
Jeremy (Event Director) and Laurent (Course Planner)

---
Location