Sumas Mountain Why Just Run
May 31st 2015 12:00pm - 3:00pm
Course Maps
Elite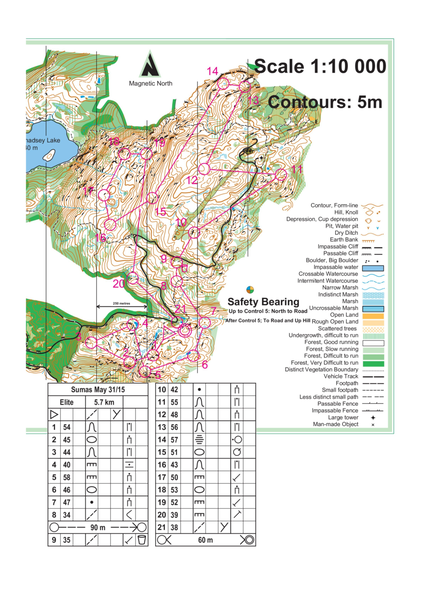 Expert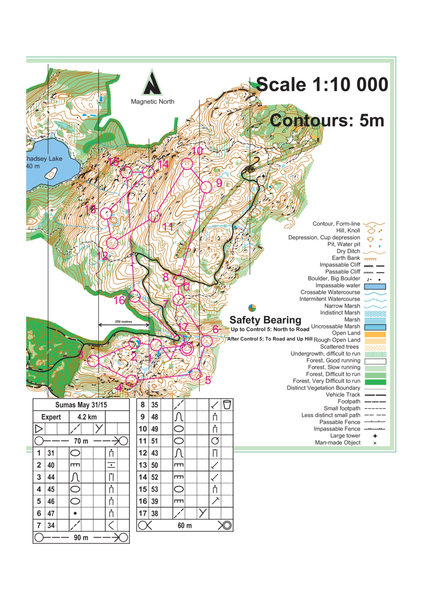 Intermediate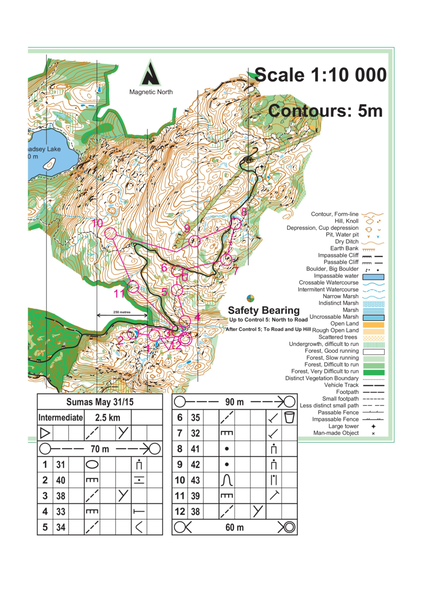 Short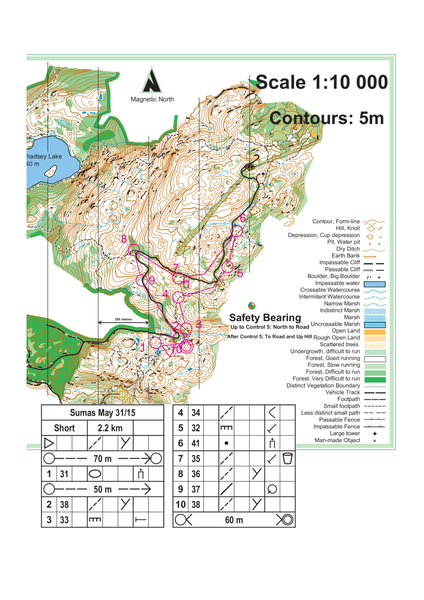 Beginner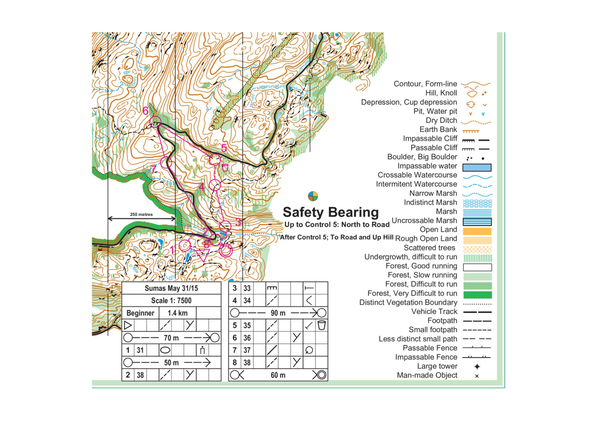 Organizers: Adam Woods (Event Director), Joanne Woods (Event Director), Kate Knapp (Organizer), Ben Smith (Organizer), Rachel Howard (Membership), Scott Muma (Organizer)
Map: Sumas Mountain
Starts available between 12:00-1:00pm, to give you time to drive up the valley. If possible, we would like the majority of people to start before 12:30, and people on different courses can start at the same time. Course closes at 3:00 pm.
Sumas Mountain is a 900 metre high forested hill, located directly Northwest of the TransCanada Hwy1 between Abbotsford and Chilliwack. Much of the area is runnable open forested terrain, with rich contour, marsh and rock features. The course is expected to be wetter than September 2014 with the marshes and ponds containing water. A very enjoyable area to orienteer, a map not to be missed. Most maps will be 1:10,000 scale (1 cm = 100 m) with 5 meter contours intervals except for the beginner at 1:7500. All courses will have more up and down elevation change, along with some steep slopes, than is typical at the Vancouver area WETs. Running speed will be slower than you might think because of the elevation change and navigation and route choice will be important. All courses will have a control with drinking water at about 1/3 of the way through the course. Five courses with the Elite course at 5.7km (21 controls) the longest course with a winning time of about 1 hour (for a top Elite runner) because of the up and down. The Expert course is 4.2 km (17 controls), but still very challenging and with the elevation change will likely have a winning time (for a top expert) of about 1 hour. If you are experienced and have good forest orienteering skills but are not super fit and fast the Expert course is for you.
The Intermediate course is 2.5 km, and still has about half of the 12 controls in the forest so is a good challenge for intermediate level orienteering. The intermediate course has slightly easier navigation, and is suitable if you have limited forest orienteering experience in the forest or want a less physical course.
The short course is 2.1 km is suitable for beginners with some experience with all 10 controls on, or near, roads and trails. There will be a flagged route from control 1 to control 2 on the short course.
The beginner course is 1.4 km is suitable for beginners with all 8 controls on, or near, roads and trails. There will be a flagged route from control 1 to control 2 on the beginner course. The beginner map will be printed at 1:7500 scale.
To get to the start of the map take exit 95 from Hwy1 and go east 2 km on North Parallel Road and then turn west and follow Lower Sumas Mountain Rd North and follow for about 20km (it turns into Upper Sumas Mountain Road). Follow signs for Sumas Mountain Regional Park that direct you to turn right at Batt Road. Then after 1 km on Batt Road turn right again at Taggart Road onto a gravel road. After 0.5 km there is a right turn-off to the Sumas Mountain Staging Area parking lot. There is a washroom at this Staging Area. From this point there is about another 4 km of gravel road, which is bumpy until you reach the Chadsey Lake Trail Parking Lot at about 4.8 km up from the end of the pavement on the km markers. There is also a washroom about 30 down the trail to Chadsey Lake. This is the closest washroom to the event/registration area, which is about 900 meters further up the road. There is a limited parking at the event site, along the side of a narrow road, so please carpool if possible. There is a gate about 450 m past the Chadsey Lake parking lot (and about 450 m from the event site) that someone will be opening for people coming to the event. If possible, please try and arrive at the gate between 11:00 and 12:00 to keep logistics simple.
---
Location