King Edward West Map information
Statistics
| | |
| --- | --- |
| Scale | 1:5,000 |
| Map standard | ISSprOM |
| Events on map | 15 |
---
Notes
Alternatives: The Pacific Spirit Park map also covers this area.

Printed size: Most of the map fits on letter paper, though you have to exclude either the eastern or western extremes.
Downloads: There is one OCAD file for this map - download using the link at the top of the page.
---
Map image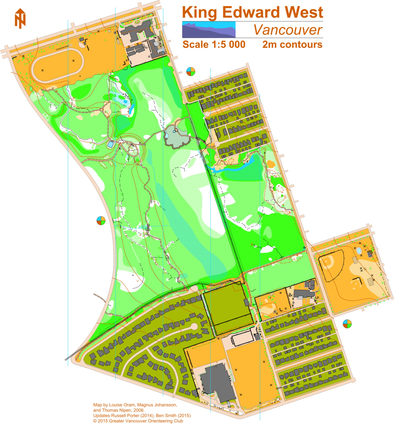 ---
Events on this map
| | |
| --- | --- |
| WET 18 - Camosun Bog South (WET) | Feb 7, 2007 |
| WET 3 - Camosun (WET) | Sep 17, 2008 |
| Camosun Bog (WET) | Mar 18, 2009 |
| Camosun Bog (WET) | Sep 30, 2009 |
| Camosun Bog (WET) | Apr 28, 2010 |
| Camosun (WET) | Apr 18, 2012 |
| Camosun Bog (WET) | Nov 21, 2012 |
| Camosun (WET) | Sep 18, 2013 |
| Camosun Bog (WET) | Apr 9, 2014 |
| Camosun Bog (WET) | Jan 7, 2015 |
| King Ed West (WET) | Sep 2, 2015 |
| King Edward West (WET) | Jul 6, 2016 |
| King Edward West (WET) | Jan 25, 2017 |
| Lorenzo Special (King Edward West) (WET) | May 9, 2018 |
| King Edward West (WET) | May 22, 2019 |
Location