Mahon Park WET - Farsta Wednesday Evening Training
September 20th 2023 6:00pm - 8:00pm
Organizers: Laurent Mingo (Event Director), Robyn Rennie (Membership), Victoria Cote (Membership), Caoimhe Murray (Coach), Alistair Howard (Coach), Erica Lay (Coach), John Rance (Coach)
Farsta it is !
Don't miss out this one: we'll be ***on a brand new map*** at Mahon Park in North Van. for a mix of urban park, trails, & a sprinkling of forest-O. Many thanks to Bruce Rennie for mapping this area. Please sign-up by noon on the day of the event so I can print maps.
What is a Farsta? It is a mass-start race with forking and a few hub controls along the way: fun !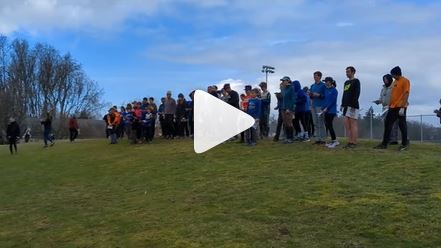 Registration

Registration is now closed.
See who else has registered.

Note: Sunset is 7:15pm. >>>headlamp a must!<<< especially in forested areas.

Courses:

Courses (non-mass start):
Beginner++: easy-ish 1.4km, 20m elevation gain, 13 controls, urban park setting, a few controls in treed areas
Intermediate++ (*):

2.3km, 75m elevation gain, 20 controls, Urban, a few controls in the forest (tricky if dark) that can be short-cut going from 7 ---> 10 using trail to the E of 6 (dashed purple line on map).
Farsta Courses (mass start): urban park & definitely forest.
Expert: 3 km, 70m elevation change, ~ 25 controls, technical

Elite: 4 km, 160m elevation change, ~ 30 controls

, technical and physically demanding. You'll get your steps for the day !
...You can always start as as an individual race if you prefer.
(*): People registered in the Intermediate course are welcome to take part in the mass start but your course is not forked. The mass-start frenzy should nonetheless be a lot of fun (and good training on keeping focus)
Preliminary Schedule
18:00 Registration
18:15 Tips for beginners++
18:15 Individual++ & beginners++ starts open until 19:00
18:45: Mass Start for Expert and Elite together (Intermediate++ can hop in !)
20:00: Course closes, all participants must report to the Finish before leaving.
Safety Precautions & Notes on the new map

Sunset is 7:15pm. >>>headlamp a must!<<<

The forested area on the map is a broad forested ridge with two deep, steep ravines cut by Wagg Ck. to the E and by Thain Ck. to the W. Wagg flows into Thain on the S end of the map completing the delineation of the forested plateau.
For technical orienteering (think "Middle" type of event), the plateau is a more interesting area. There should be no reason to attempt cutting across the creeks, especially when dark, at any points in these courses as there are ample trails offering complex route choices (think "Long" type of event).
Creeks should only be crossed via the available bridges and not forded (wildlife habitat). These low lying areas do not have vegetation mapping at this point in time.
For clarity, the out-of-bound area symbol (below) was added to most creek zones, but not all, so to not compromise map readability.

There are several trails with stairs sections (could be slippery), and controls are never far from a trail.
Take it easy, this is a WET and there is no reason to take any risks.

Parking/Start Location
At meet location and in neighboring streets.

Acknowledgements
Without volunteers, these events cannot take place. A hearty thanks to all those helping put this event on. If you would like to volunteer/help at upcoming WETs/WJRs or would like to organize a WET please let us know.
---
Location