Sprint Camp 2016
February 12th 2016 4:00pm - February 14th 2016 2:00pm
Organizers: Alison Schoenhardt (Event Director), Brian Ellis (Organizer), Marg Ellis (Organizer), Karen Lachance (Organizer), Bruce Rennie (Organizer), Stan Woods (Course Planner), John Rance (Course Planner), Robyn Rennie (Course Planner), Mike Rascher (Course Planner), Hilary Anderson (Course Planner), Ben Smith (Course Planner), Kate Knapp (Organizer), Louise Oram (Controller), Thomas Nipen (Controller), Magnus Johansson (Controller), Meghan Rance (Controller), Brent Langbakk (Coach)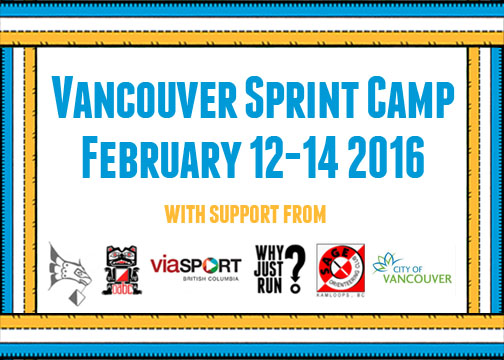 Stage results
SI Race 1 - Queen Elizabeth Park
Winsplits - Queen Elizabeth Park
SI Race 3 - Totem 1-person Relay
Best 4 of 5 Elite Male Best 4 of 5 Elite Female
Best 4 of 5 Expert Male Best 4 of 5 Expert Female
2-Person relay results
Unfortunately later downloads were lost from the results system, but 10 completed the relay without mispunching. Teams missing from the results summary had not mispunched so far and would have finished after the 10th place team. The runners from those teams do appear in the splits though.
Splits are in order of leg, so the first runner ran Leg1/Leg3 and the second runner ran Leg2/Leg4.
Event information
Update February 10 - The event booklet is now available here. Please also print and bring a copy of our waiver. We will have some hard copy waivers on Friday at registration.
Update: February 8 - Further details will be provided in the event booklet, which you must read, commit to memory, and bring with you to Sprint Camp! All participants will receive the event booklet by Wednesday. Please email Alison if you don't receive this booklet.
Join us for the 2016 Sprint Camp! Prepare yourself for a weekend jam-packed with sprint training exercises, with a few races thrown in to practice those skills!
REGISTRATION IS NOW CLOSED
Coach
Joining us again to share all of his orienteering knowledge is Brent Langbakk! You can expect high-quality and specific trainings designed by Brent, plus you have access to Brent throughout the weekend for pep talks, goal setting, debrief, analysis, and so on.
SPRINT CAMP COMMITTEE
Without our fantastically skilled and dedicated team of volunteers, this event would not be possible!
Event Director - Alison Schoenhardt
Event Advisors - Magnus Johansson, Andrea Balakova, Meghan Rance, Louise Oram, Thomas Nipen
Course Planners - John Rance, Mike Rascher, Ben Smith, Stan Woods, Robyn Rennie, Bruce Rennie, Hilary Anderson
Coach - Brent Langbakk
Dinners - Jericho Beach HI Hostel
Technical Lead - Scott Muma
Registration - Rachel Caulfield
Coordinators - Marg Ellis, Karen Lachance
Event Booklet - Kate Knapp
PRICES
All sessions (excludes dinners and accommodation): $100
Friday only: $20
Saturday only: $50
Sunday only: $30
Single training session: $10
Dinner Friday/Saturday: $20/day
REFUND
Up to Jan 31, 2015, 75% refund
Jan 31 onwards, no refund
ACCOMMODATION
This year we're not doing billeting. We know you all love it, but it's really a lot of work to organize. Instead, we've arranged accommodation and dinners at the Jericho Beach HI Hostel! The hostel is closed to the public in the winter, and is only open for group bookings. There will be another group in the building, but you won't be sharing rooms with them.
Each dorm has an electronic keycard, for secure access. There are padlocked storage lockers for your stuff (bring your own padlock), although I'm sure your sweaty clothes will also act as a deterrent. There are shared bathrooms. There is a shared kitchen with every utensil you could ever want for cooking/assembling breakfast and lunch. The Friday and Saturday night dinners will be in the hostel, and Saturday morning race is literally a few steps from the hostel!
Book through Zone 4 only. Deadline for room bookings is Wednesday January 13. This is because the hostel need us to confirm hard numbers 30 days in advance. Please book early to avoid disappointment.
Cost
$21/night for shared accommodations
$68/night for private rooms (only 3 available!)
There is parking onsite, some in the lot and some street parking. We'll set up a document of some description for you to work out car sharing, as required.
DINNERS
Both Friday and Saturday night dinners will be hosted at and catered by Jericho Beach HI Hostel, with a presentation by Coach Brent Langbakk. We also hope to have some entertainment. This is a great opportunity to catch up with new and old friends, go over courses from the day, and get a delicious meal. Tickets must be purchased in advance via Zone 4. If you have allergy or diet restrictions, please email Alison at alimcalison@gmail.com, and we will do our best to accommodate you.
PRIZES
Prizes will be awarded for top 5 men and women in the Best 4 of 5 SI Races. See schedule for which races count. Prizes are $200, $150, $100, $75, and $50. There will also be prizes for the top 3 men and women in the Expert category!
Our friends in Seattle have kindly donated 2 entries to the 2016 Seattle Adventure Running Tournament! These will be awarded to the top man and top woman of the weekend! Thanks to Patrick Nuss and COC for the donation!
TENTATIVE SCHEDULE - DON'T RELY ON THE TIMES IN THIS TABLE. EVENT PROGRAM SUPERSEDES THIS TABLE IN ALL INSTANCES.
| | | | |
| --- | --- | --- | --- |
| Time | Event | Location | Terrain |
| Friday, February 12 | | | |
| 1pm - 2:30pm | Training by Brent | Oak Meadow Park | Park |
| 3:30pm -4:30pm | SI Race 1 | Queen Elizabeth Park | Park |
| 6:30pm | Dinner | Jericho Beach HI Hostel | |
| Saturday, February 13 | | | |
| 9:00 - 10:30 | SI Race 2 | Jericho Beach | Park |
| 10:30 - 11:30 | Training by Brent | Jericho Beach | Park |
| 11:30 - 13:00 | Lunch | Wherever you want | |
| 13:00 - 13:30 | SI Race 3 - 1-person relay | Totem Park, UBC | Urban |
| 13:30 - 14:30 | Training by Brent | Totem Park, UBC | Urban |
| 15:30 - 16:00 | 2-person relay | Memorial Park | Park |
| 18:00 - 20:00 | Dinner/Presentation | Jericho Beach HI Hostel | |
| Sunday, February 14 | | | |
| 8:45 - 10:00 | SI Race 4 - Setup | UBC | Urban |
| 10:30 - 11:15 | SI Race 5 - Final | UBC | Urban |
| 11:15 - 12:00 | Lunch | | |
| 12:00 - 13:00 | Training by Brent | Musqueam Park | Park/Urban |
---