Burnaby Mtn/SFU WJR Why Just Run
December 6th 2015 10:00am
Course Maps
Beginner/Novice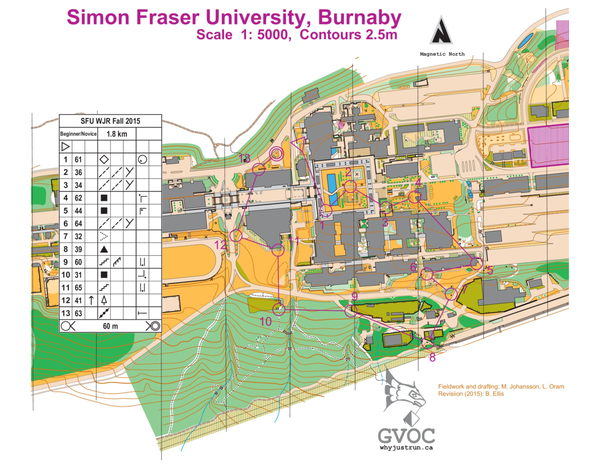 Intermediate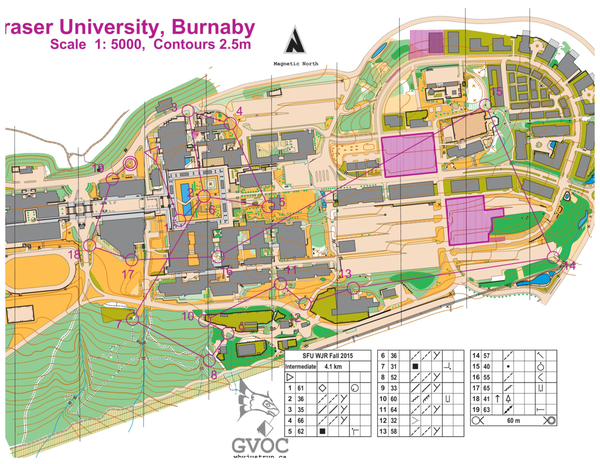 Technical-Shorter
Technical-Longer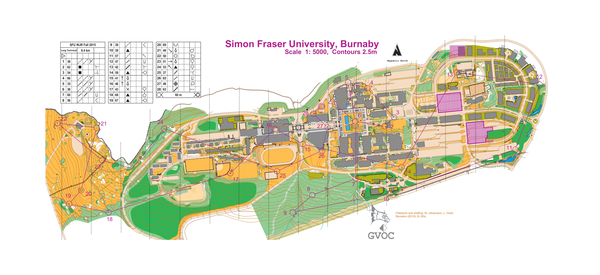 Organizers: Pia Blake (Assistant), Scott Muma (Assistant), Karen Lachance (Membership), Brian Poole (Membership), Joanne Woods (Assistant), Bruce Rennie (Assistant), Holly Hendrigan (Coach), George Pugh (Assistant), Adam Woods (Assistant), Rachel F (Event Director), Rachel F (Course Planner), Mike Rascher (Assistant), Robyn Rennie (Assistant), Adam Woods (Coach), Sergio FerLoz (Host), Sergio FerLoz (Organizer)
Check out your "Winsplits" for breakdown of your Orienteering Event by splits and compared with others on your course:
TABLED SPLIT TIMES from WINSPLIT ONLINE RESULTS can be found AT:"http://obasen.orientering.se/winsplits/online/en/show_event.asp?id=39954
Here are some BONUS graphics from Winsplits for the performances on each of the courses.
*The Time Behind Leader Graph shows time behind the leading runner at each control.
* In The Time Loss and Error Free Time Graph -- A runner is considered to have made an error on a leg if he or she lost more time than normal on that leg. Time loss on a leg is the difference between the actual split time and the split time the runner should have had with a normal performance. The graph shows each runner's error-free time, as well as the time lost by that runner over the entire course.
Beginner/Novice -- No competitors (therefore no graphs)
Intermediate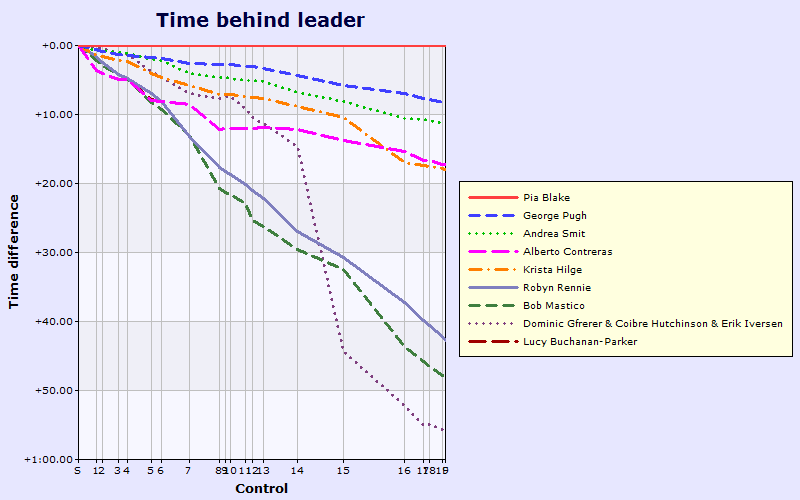 Technical Shorter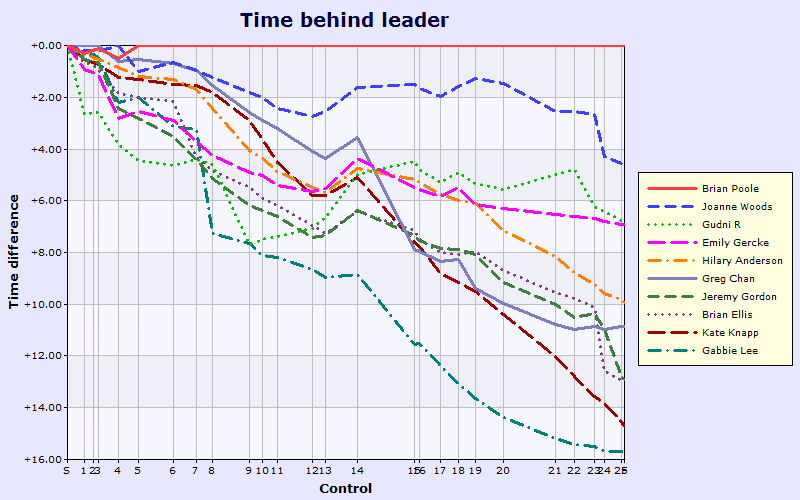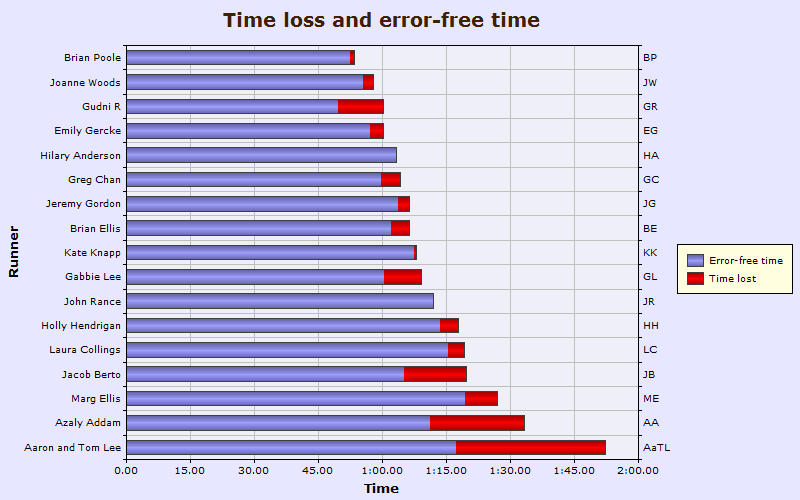 Technical-Longer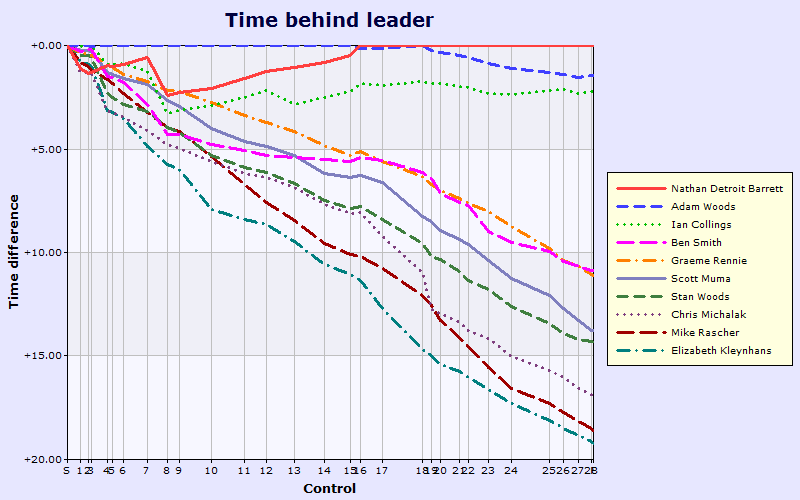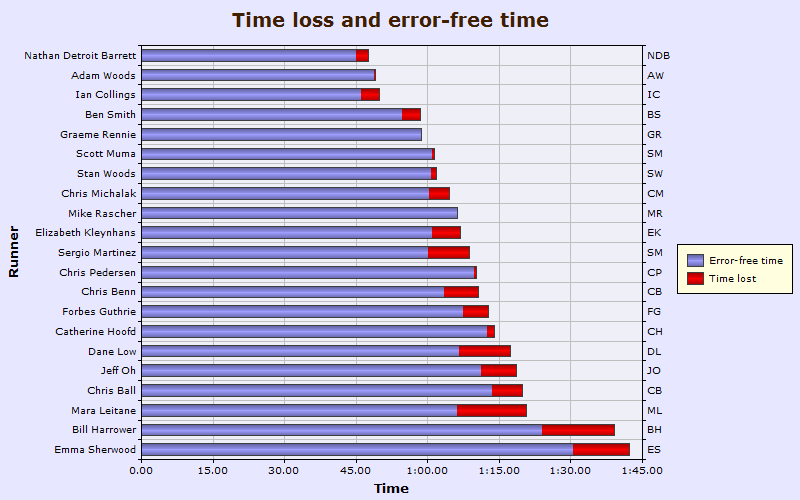 ---
PRE-EVENT INFORMATION.
---
LATEST UPDATE: In the spirit of minimizing environmental impact, help us minimize garbage by BRINGing your WATER BOTTLE! Also, because this is an event with SFU Outdoors Club and campus permitting/space bookings were made through the SFU Outdoors Club/Student Society, all participants will also need to sign an SFU Outdoors Club Waiver at the registration table. Thanks!!
---
SIGN-up online for your course in advance of the event (BY FRIDAY 9PM). Anyone signing up after that online after that can not be assured a map, SI-stick for electronic timing, or entry into the event.
VOLUNTEERS NEEDED: If you are interested in volunteering for this event please email the Meet Director (Rachel F) by clicking on the "Rachel F" link. Volunteering opportunities are available in many capacities from: pre-event/equipment preparation, placing controls/flags, site set-up, assisting with on-site registration, intro to orienteering to novices, start, finish, timing, safety, picking up controls/flags, general cleanup, apost-event/equipment preparation
Please let me know, even if you don't have experience in a particular domain -- I will try to pair you with a more experienced individual and this can be an opportunity for skill development!.The ideal is to have at least two people in each domain to share the load and to learn new skills!
---
Event Plan: SFU Outdoors Club, in conjunction with GVOC, is hosting an orienteering event on a map that includes SFU and part of the City of Burnaby's Burnaby Mountain Conservation Area. Note: OABC will also be holding its AGM after the WJR (see below/and AGM event page for more details).
There will be a variety of courses/routes suited to participants with a wide range of experience -- from novice to experienced orienteers. We will ave four courses/routes (Choose One), for which you can complete your online registration now! Note: for those of you who are new to orienteering, the distances indicated for the courses are "as the crow flies", you will be walk/running further than the indicated to finish a course. Please sign-up online for your course in advance of the event (by Friday 9pm).
Safety: Note regarding the terrain: all anticipated courses have substantial running/walking on pavement/concrete. Spiked shoes are not recommended. In case of rain, please be wary of slippery surfaces. All courses involve stairs, please be careful going up and down stairs. Do not run at speeds where you lose control. SFU campus security generally advises people not to run down/up stairs. Note please also be aware that campus will be busy. In order to avoid collisions/accidents, you may need to run at slower speeds than you normally would. Additionally, some of the courses involve forest paths, with bridges -- the bridges are EXTREMELY slippery with some sections that seem about to break; you must slow down and be careful in these sections. There will also be some road crossings on the courses, be sure to LOOK BOTH WAYS on road crossings (this is particularly important if you have run on campus previously, as now almost all roads have two-way traffic, instead of being one-way which is what they were previously). Caution is always advised. Please be sure to carry a whistle with you; a personal whistle is required for all orienteering events.
---
Parking: there is lots of paid parking on campus -- See for map: https://www.sfu.ca/content/dam/sfu/parking/images/Campus%20Parking%20Map%202015.pdf. There are a variety of parking lots close to the assembly area; you may prefer to park closer to the MAJOR bus loop near the stores/coffee shops and Club Ilia where the OABC AGM will be held after the event.
Before the event: a brief introduction to orienteering will be provided to novice orienteers. This link provides a guide to some of the colours and symbols that you may see on an orienteering map
Control descriptions (small strips of paper with a list of the controls you will be going to, c.f., Control/clue descriptions ) will be provided for courses, so if you have a description holder you are encouraged to bring yours. This link provides a guide to the how symbols on the control description sheet correspond with symbols on an orienteering map. Safety pins can also be used to pin control description to your shirts if you do not have a plastic description holder.
Food/Refreshments: Because of food permitting restrictions, the types of small snacks and refreshments that can be provided at the event are restricted. However there are coffee houses/eating locations/grocery in the area for breakfast before or lunch after the event. Note the OABC AGM (See below) will be scheduled at CLUB ILIA, you can always make your way over there after you finish for a bite to eat/drink before/during the OABC AGM.
---
Permitting: We worked closelywith SFU (through SFUSS), the City of Burnaby Parks Recreation and Cultural Events Office, as well as the University Highlands Elementary School/Community Centre Office to obtain the necessary permitting and permissions to hold this GVOC/SFU Outdoor Club event. Thank you also to Club ILIA for making space available for the OABC AGM following the WJR. We look forward to being able to see you on Burnaby Mountain!
---
Instructions to Participants:
What to Do: Before the day of the event --
1) Once on-line sign-up opens, sign-up for the event before so we can have sufficient maps (if you are a first timer you will need to create a log-in id).
On the day of the event --
2) Drive/Bus/Carpool to SFU.
3) Arrive at the meeting/assembly location between 9:45am and 10:15am, the specific location is indicated by a marker on a map on this web-page -- if you are new to orienteering please arrive closer to 9:45, so you can complete registration so you can proceed to 4b by ~10am).
4) Complete the in-person registration procedures (payment, paper-work, etc), & pick up the a description sheet for your specific course (Beginning/Novice, Intermediate, Technical Short, or Technical Long)
4b) Obtain introduction to orienteering if needed (10:00am).
5) Check for updates regarding specific event instructions -- start procedure/course closure/special instructions/cautions.
6) Start and Finish Locations will be close to the assembly area.
*STARTS will begin shortly after 10:15;
*After completing the-in person registration, be sure you CLEAR/CHECK your assigned SI-sticks,
*Line up in the start area according to the your course (Beginning/Novice, Intermediate, Technical Short, Technical Long -- one line per course) -- BE SURE TO HAVE A WHISTLE!
*Pick up the correct map (do not look at it, until you are instructed to start after which you will punch your SI in the START unit)!
7) Orienteer by running/walking your course from one flagged control-point to the next in sequence-- navigating the terrain efficiently as possibly, but without going in 'forbidden/out of bound areas' and buildings, or going over structures which are indicated as 'forbidden to cross!
8) Whether you have finished or not, report back to the Finish by the time indicated for Course Closure.
9) After reporting to Finish, report to the timing table to a) obtain an official time, b) get a printout of your timed results, c) return any rented/borrowed equipment. ALL PARTICIPANTS MUST REPORT TO THE FINISH/TIMING DESK BEFORE LEAVING.
10) Meet some new people, compare routes, and talk about how much fun you had!
11) Attend the OABC AGM which is scheduled for the same day after the SFU Outdoors Club/GVOC hosted WJR (Details on the OABC AGM: 1:30pm. at CLUB ILIA on Burnaby Mountain in the SW corner of the Cornerstone Building by the NEW LARGE BUS LOOP/TRANSPORTATION CENTRE.)
---
Location