Silver Valley, Maple Ridge Why Just Run
March 29th 2015 10:00am - 12:30pm
Course Maps
Beginner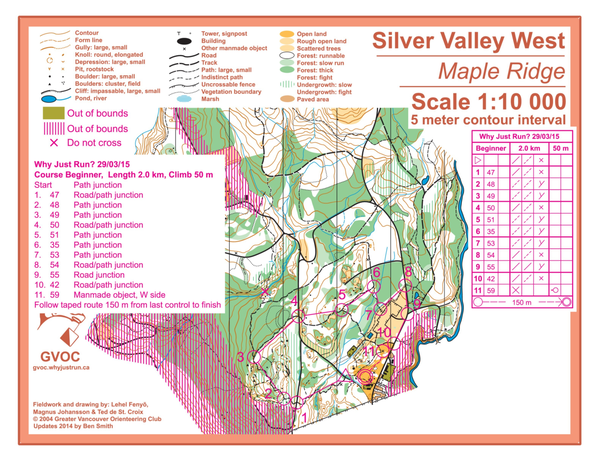 Novice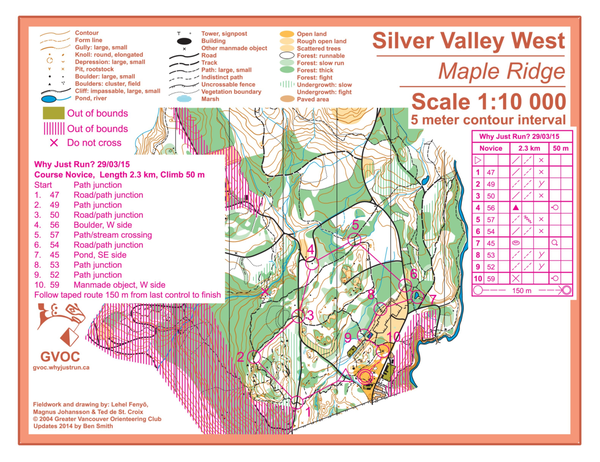 Intermediate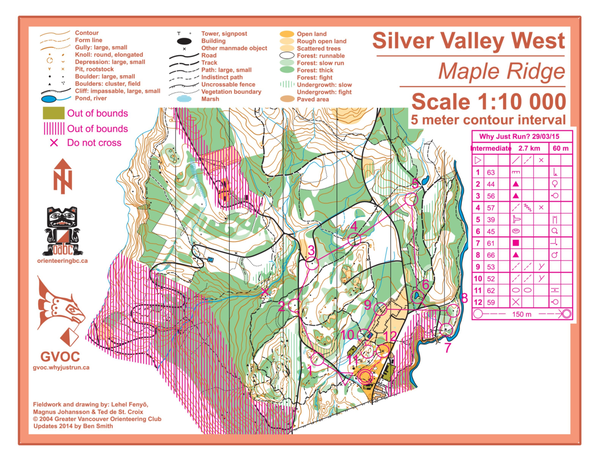 Advanced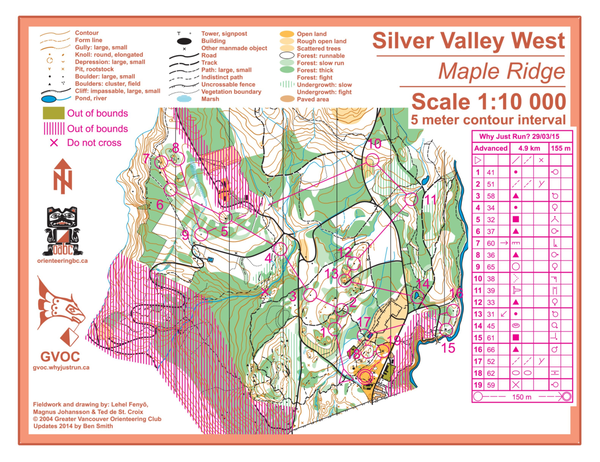 Elite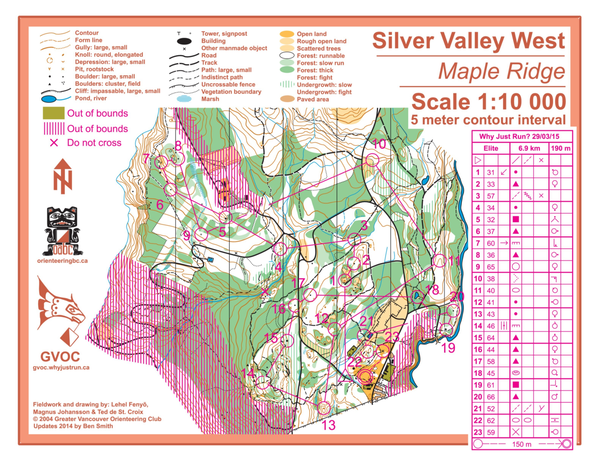 Organizers: Ben Smith (Course Planner), John Rance (Controller), James Golding (Event Director), Ben Smith (Event Director), Karen Lachance (Membership), Rachel Howard (Membership), Linda Wu (Membership), John Rance (Coach)
Map: Silver Valley West
Thank you all for braving the rain and joining us in Maple Ridge for another fun "Why Just Run?" event - I hope you all enjoyed yourselves. These events wouldn't be possible without our wonderful volunteers, so many thanks to John and Karen for everything; Mike and Kate on the start; Rachel, Linda and Joanne on registration; Bruce and Robyn on refreshments; Graeme, Ian and everyone else who helped with training; Catherine, Gilles, Nate and Ian for collecting controls; and everyone who stuck around to help pack up at the end - thank you all!

Click here to go to the Winsplits website, where you can compare your split times to other competitors!

Silver Valley has seen many changes in recent years, and it was a bit of a rush to update the map for this event. I hope the general runnability of each block of forest was accurate, and the few inaccuracies didn't affect your run too much. I won't apologise for #14 on the elite course though - the course description clearly stated you'd be visiting some very rugged areas!

I hope to see you all at the next "Why Just Run" weekend event at McCartney Creek in a few weeks time. Don't forget we also have weekly Wednesday evening training events, which are free for GVOC members - check the homepage to see what's coming up.

Ben
---
Come out east and enjoy some fine running in Maple Ridge! We have five classic point-to-point races, with lengths and difficulties to suit everyone. The forest has undergone many changes since we last ran here, so even seasoned orienteers can expect some new challenges. Training is available for those new to the sport, and is included in your entry fee.
Important notes

The park rules prohibit smoking, dogs, and bikes anywhere in the area, including the start/finish area. Please help us continue our good relationship with the park authority and adhere to these rules.
There are three out of bounds areas marked on the map with vertical purple lines. There is also a dangerous creek crossing marked on the map with a purple cross. Avoid these areas!
Be aware of speeding trucks and cars on the forest roads. There are not many of them, but they go fast!
Please bring a whistle or buy one for $1. Whistles are mandatory at all GVOC events.
Times
10:00am - Registration opens
10:30am - First start
12:30pm - Last start
2:00pm - Courses close. If you are not back by this time we will send a search party out looking for you. You must report to the finish even if you don't complete your course.
Terrain
The Research Forest is typical west coast. It can be rugged off trail, with lots of fallen logs and thick moss in places. Your benevolent planner has designed courses to avoid the worst areas, although the open forest is still slower and more rugged than interior forests. The map has been updated for this event, but the forest is a very active logging area - expect recent vegetation changes that are not on the map.
Aggressive trail shoes or spikes and full body cover recommended.
Directions
Allow about 45 minutes from Grandview and Boundary in Vancouver. Google Maps: search for "Malcolm Knapp Research Forest".
From the Lougheed Highway, take Golden Ears Way, which becomes 128 Ave. Then, take 216 St north, 132 Ave east, 232 St north, and Silver Valley Road. Continue to the end of Silver Valley Road.
Parking and event assembly
Park in the public car parks by the forest entrance (no charge). If these are full, park on the side of the road.
Registration and assembly is 2 minutes from the car park. Go through the main barrier gate and turn left.
The start is 2 minutes from registration. The nominal route to the start crosses a small but deep ditch. If you have a stroller or have low mobility, please ask at registration and we will direct you via an alternative route. The finish is by registration. You must report to the finish even if you don't complete your course.
There are pit toilets near registration.
---
Location