Rice Lake Why Just Run
June 22nd 2014 10:00am
Course Maps
Short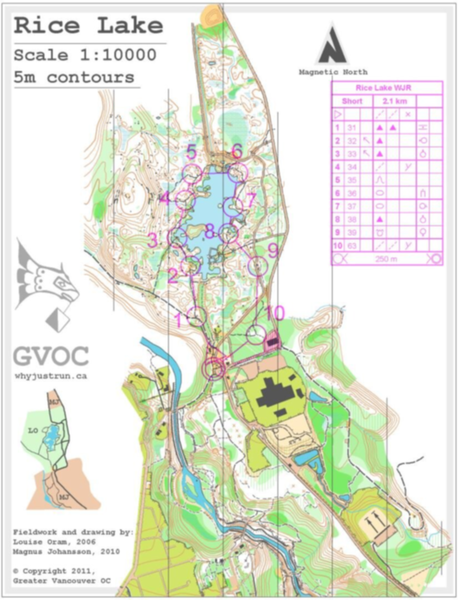 Sport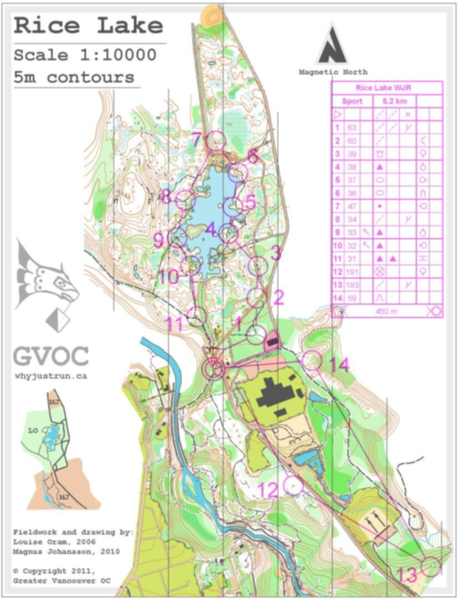 Expert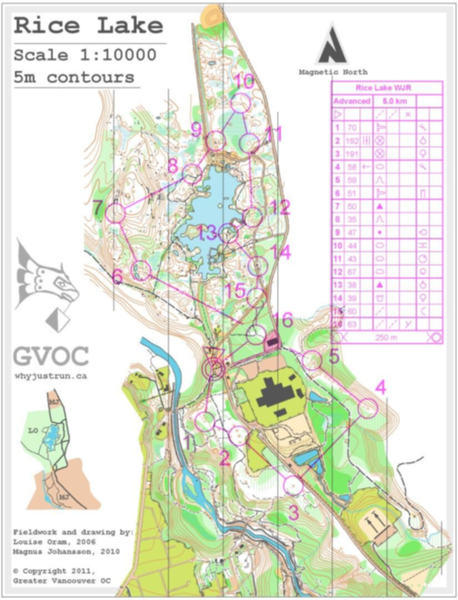 Elite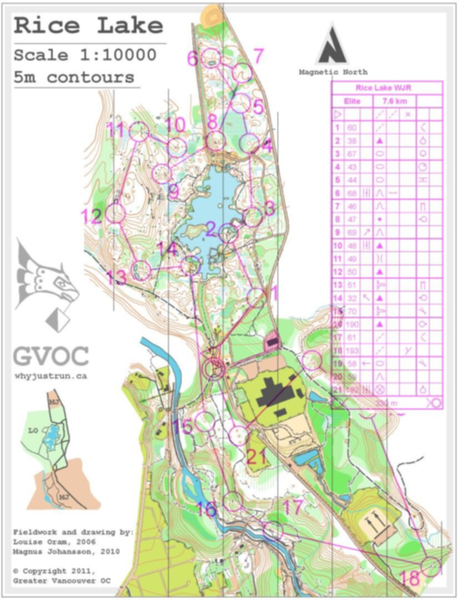 Organizers: Robyn Rennie (Event Director), George Pugh (Course Planner), Bruce Rennie (Controller)
Map: Rice Lake
Welcome to the Rice Lake Why just run.
Courses
For newcomers, families, or those who just want a short stroll through the forest, we're offering a short and intermediate course. Short course is only on trails. Intermediate course is mostly on trails, but just a little longer!
Course Close
The course closes at 12 noon, so you must be back at the finish at or before this time.
Course Notes
The Expert and Elite courses will take longer and be more physical and require more map skills than our Wednesday night events. Both courses will be the same technical difficulty, so pick your course accordingly.
The Short and Sport courses are advised for beginners
We strongly recommend leg covering.
You will likely encounter lots of cyclists and walkers on the courses. Please be careful and respectful of other trail users.
Meet Location
We will start at the gazebo at the Lower Seymour Conservation Reserve. Please ensure you obey all parking signs and restrictions.
Schedule
9:30am - Registration opens
10:00am - Start opens
12:00pm - Course closes. Report to finish.
2pm onwards - BBQ @ Chateau Oram!
Entry Fees
Adults - $10 for GVOC members
Juniors - $5 for GVOC members
Families - $20 max. for GVOC members
Post-Event BBQ
It's mid-summer, it's sunny, Louise Oram is back in town for 1 weekend only... come join us for a post-event BBQ at Chris & Margo's house.
Time 2pm onwards
Location 5626 Alma Street, Vancouver
What to bring Yourself and a salad, dessert, appetizer, snack, or drink to contribute. Chris & Margo are generously providing the BBQ mains.
Please sign up on the left side, so we have a rough idea of numbers! Please also make a note if you'd like a ride from the event. P.S. it's OK to come to the BBQ and not the event!
Membership
All participants must also be members of GVOC for insurance purposes. If you haven't been to an event in 2014, or you're new to the club, please arrive a few minutes early to fill out our membership form.
Membership is valid until Dec. 31, 2014. It includes free Wednesday Evening Trainings, and access to our Why Just Run series. Cost is $5 for first-time orienteers & juniors, $10 for renewing adults, and $20 for families.
Registration for this event closes on Friday June 20th at 11:59pm PST. On the day entries are welcome, but we cannot guarantee we'll have maps for everyone.
---
Location