McCartney Creek Why Just Run
May 11th 2014 10:00am - 12:00pm
Course Maps
Short Course
Expert Course 1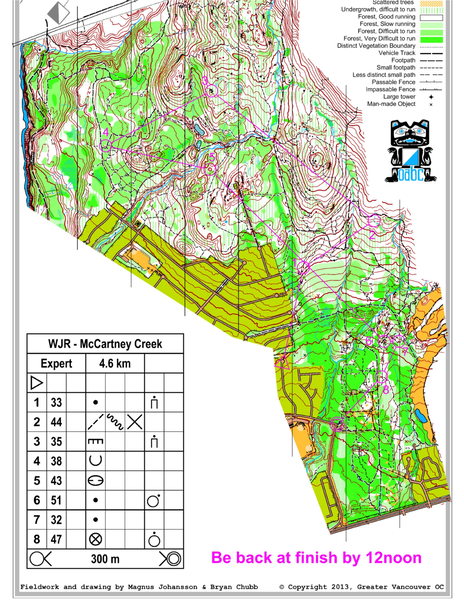 Elite Course 1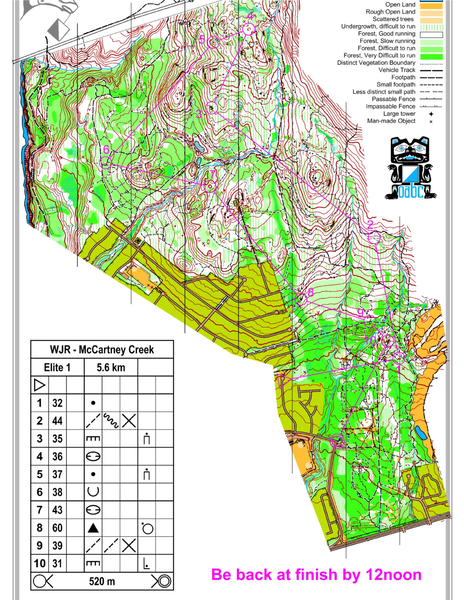 Intermediate Course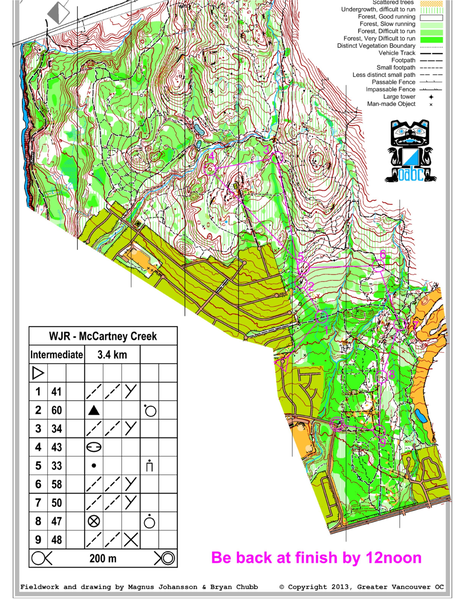 Expert 2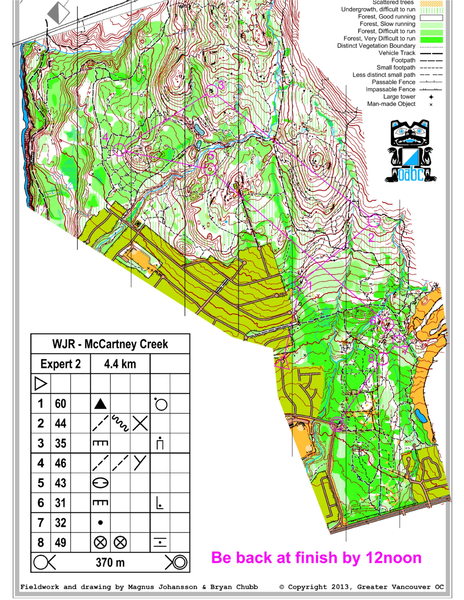 Elite 2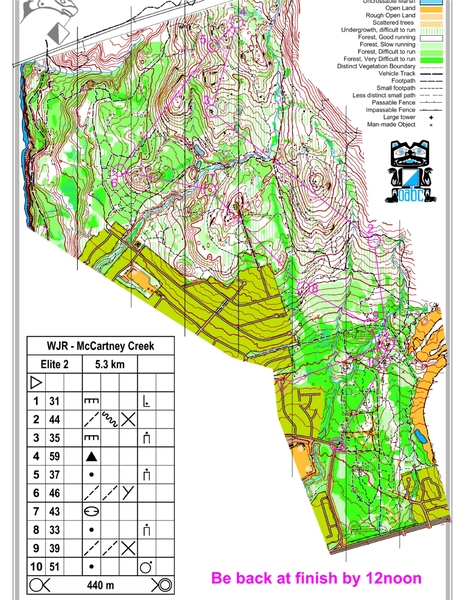 Organizers: Adam Woods (Coach), Joanne Woods (Membership), Karen Lachance (Membership), Graeme Rennie (Assistant), Kate Knapp (Assistant), John Rance (Controller), Catherine Hoofd (Assistant), Gilles Delmee (Assistant), Jeremy Gordon (Assistant), Alison Schoenhardt (Event Director), Andrea Balakova (Controller)
Map: McCartney Creek
Thank you to everyone who came out and participated in our WJR. Special thanks to all the volunteers who helped this event run smoothly!
-----
Join us for your Sunday adventure at McCartney Creek, Vancouver's newest and most exciting forest map!
Courses
For newcomers, families, or those who just want a short stroll through the forest, we're offering a short and intermediate course. Short course is only on trails. Intermediate course is mostly on trails, but just a little longer!
For the rest, there will be a mass start at 10am for the expert and elite courses. There will be forking (i.e. there will be 2 versions of each course with different controls), so you have to make sure you're reading your map and not following someone.
Course Close
The course closes at 12noon, so you must be back at the finish at or before this time.
Course Notes
The expert and elite courses, you're going to spend quite a bit of time off-trail. This means the course will take longer and be more physical than our Wednesday night events. Both courses will be the same technical difficulty, so pick your course accordingly.
We strongly recommend leg covering.
You will likely encounter mountain bikers on the courses. Although you have right of way, I guarantee you will come off worse in a crash. Listen for bikers and be careful!
The courses will cross a road at the end. Please be aware of traffic.
Meet Location
Meet at the baseball field on Larkhill Rd. Please ensure you obey all parking signs and restrictions.
Schedule
9:15am - Registration opens
9:45am - Start opens for beginners
10:00am - Mass start for expert and elite courses
12:00pm - Course closes. Report to finish.
Entry Fees
Adults - $10
Juniors - $5
Families - $20 max.
Membership
All participants must also be members of GVOC for insurance purposes. If you haven't been to an event in 2014, or you're new to the club, please arrive a few minutes early to fill out our membership form.
Membership is valid until Dec. 31, 2014. It includes free Wednesday Evening Trainings, and access to our Why Just Run series. Cost is $5 for first-time orienteers & juniors, $10 for renewing adults, and $20 for families.
Registration for this event closes on Friday May 9th at 11:59pm PST. On the day entries are welcome, but we cannot guarantee we'll have maps for everyone.
---
Location