Pacific Spirit Park Score-O Why Just Run
January 19th 2014 10:00am
Course Maps
2 Hour Score-O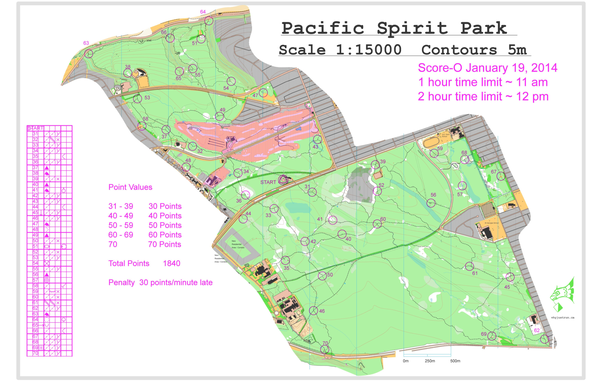 Organizer: Meghan Rance (Event Director)
Map: Pacific Spirit Park
The first Why Just Run of 2014 will be the annual Score-O event at Pacific Spirit Park.
Is there someone that you want to introduce to orienteering? This is a great event for families, beginners, experienced orienteers, super-fit people and walkers! A Score-O is an orienteering event in which participants try to visit as many controls as they can within a time limit. The controls may be visited in any order and have different point values based on their difficulty and distance from the start/finish. Collecting points is fun but overestimate how far you can go or lose track of time and you could lose them all. There is a 30 point penalty for every minute a participant is over the time limit.
Participants can choose between a 1 hour and a 2 hour time limit. All participants on BOTH courses will mass start at 10 am. The 1 hour course will finish at 11 am and the 2 hour course will finish at 12 pm.
Please register on the website to reserve a map by Friday, January 16.
On-site registration will open at 9:15 am.
We will also be offering a Tiny-O. Tiny-O is a short course (1.3 km) available for kids ~4-10, as well as for beginners of all ages. As in Stanley Park, we will be using images on the map as control descriptions for the kids (the written descriptions are for the parents), and the corresponding image will be hanging on the control flag. This month's theme is 'Superheroes' ;-)
COST
Adults (20+) - $10
Juniors (under 20) - $5
Families - $20
2014 is a new membership year. If you haven't renewed your membership please give yourself a little extra time for registration before the event.
ALL PARTICIPANTS MUST BE A MEMBER OF AN OFFICIAL ORIENTEERING CLUB AND SIGN A GVOC WAIVER.
MEMBERSHIP
Adults (20+) - $10
First time orienteers - $5
Juniors (under 20) - $5
Families - $20
Membership includes free Wednesday night training events for the entire 2014 calendar year!
START LOCATION
We will meet in the upper parking lot of the Pacific Spirit Park headquarters, halfway along W 16th avenue, between Blanca St and Wesbrook Mall. The location will be marked with orienteering signs. Free parking is available in the lower parking lot or along the road nearby. There is a bus stop right out front.
SAFETY
To visit all of the control sites, participants will have to cross W 16th ave and Chancellor Blvd at least 2 times. Please be cautious and aware of traffic while crossing the road. It is possible to visit a large number controls without crossing any roads.
Please do not run through any areas marked as out-of-bounds (e.g., the UBC golf course)
---
Location