Mount Seymour Map information
Statistics
| | |
| --- | --- |
| Scale | 1:10,000 |
| Map standard | ISOM2000 |
| Events on map | 3 |
---
Notes
Notes: This map is from 1975, with minor revisions in 2013. The ski runs south of the chalet and north of the car park have changed dramatically. Contours are generally accurate. Some large crags are missing from the map. Water bodies are generally okay. Trails are generally okay, though a few are missing. There are new buildings and chairlifts. The western-most hill does not show large areas of bare rock. Vegetation varies from "actually nice" to "typical north shore".
Printed size: Letter.
Downloads: There is one OCAD file for this map - download using the link at the top of the page.
---
Map image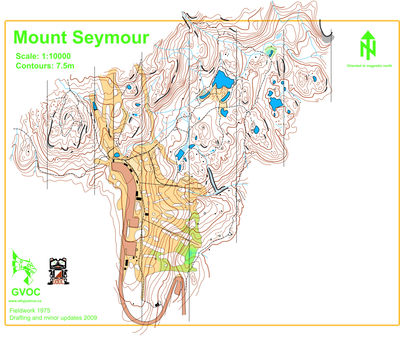 ---
Events on this map
Location