Stanley Park South Map information
Statistics
| | |
| --- | --- |
| Scale | 1:5,000 |
| Map standard | ISSprOM |
| Events on map | 26 |
---
Notes
Alternatives: Stanley Park is a 1:10000 scale map of the whole of Stanley Park.
Printed size: Tabloid
Downloads: There are two OCAD files for this map:
The regular map is shown in the preview image, and is tabloid size. It can be downloaded using the link at the top of the page.
The "master" map extends further to the west and east and can be downloaded from Stanley-Park-Sprint-2022-12-14.ocd. It is larger than tabloid size.
---
Map image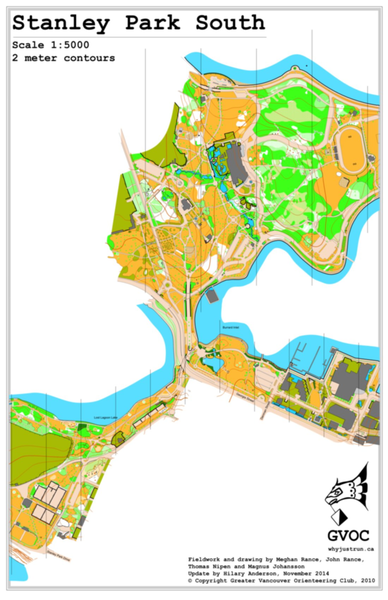 ---
Events on this map
| | |
| --- | --- |
| WET #2 - Stanley Park (WET) | Sep 15, 2003 |
| UOA - Stanley Park, Vancouver Sec | Jul 1, 2004 |
| UOA - Stanley Park, Vancouver Bro | Aug 19, 2004 |
| WET # 1 - Stanley Park East (WET) | Sep 6, 2004 |
| Determinator 5 - Stanley Park | Feb 13, 2005 |
| WET #27 - Stanley Park (WET) | May 3, 2006 |
| WET 13 - Stanley Park (WET) | Dec 6, 2006 |
| WET 28 - Stanley Park (WET) | Apr 18, 2007 |
| WET #2 -- Stanley Park (WET) | Sep 26, 2007 |
| Why Just Run #1 - Stanley Park (WJR) | Jan 20, 2008 |
| WET #40 - Stanley Park (WET) | Jul 16, 2008 |
| WET 14 - Stanley Park (WET) | Dec 3, 2008 |
| Stanley Park (WET) | Jun 24, 2009 |
| Junior Session - Stanley Park | May 13, 2010 |
| Stanley Park (WET) | May 5, 2010 |
| Stanley Park (WET) | Oct 13, 2010 |
| Stanley Park (WET) | Apr 20, 2011 |
| Stanley Park East (WET) | Jul 6, 2011 |
| Stanley Park (WET) | Apr 11, 2012 |
| Waterfront (WET) | Jan 16, 2013 |
| Stanley Park South (WET) | Jan 8, 2014 |
| Stanley Park South (WET) | Oct 22, 2014 |
| Stanley Park South (WET) | Jun 24, 2015 |
| Stanley Park South (WET) | Feb 24, 2016 |
| Harbour Green Park and GVOC AGM (WJR) | Dec 9, 2018 |
| Stanley Park Event and Club AGM (WJR) | Dec 12, 2021 |
Location