Stanley Park Why Just Run
November 24th 2013 9:30am
Course Maps
Score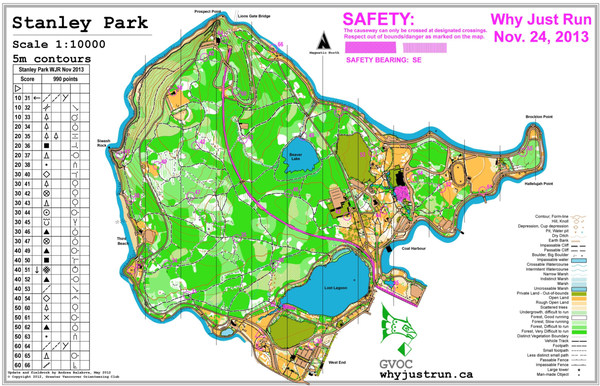 Organizers: Scott Muma (Course Planner), Jeremy Gordon (Event Director), Dane Low (Host), Hilary Anderson (Organizer), Meghan Rance (Controller), Stan Woods (Coach), Mike Rascher (Organizer), Marg Ellis (Course Planner), Brian Ellis (Course Planner)
Map: Stanley Park
Results
Description
It's one of Vancouver's most iconic tourist attractions. Come join us as we explore Stanley Park. We guarantee that our race will take you to places you've never explored before!
Parking/Start/Finish Locations
Meet at the picnic shelters by Second Beach. There is lots of paid parking in the park, but we encourage you to transit, bike, or walk. Get a little warm up in before you arrive!
Schedule
Registration: Opens 9:30am
Beginner & Novice Start: Individual Starts from 10am to 10:45am
Score-O Start: Mass-Start at 10:15am
​"Tiny-O": Course will be open from 10:15am to 11:30am
Close: All courses close at 11:30am
Courses:
Tiny-O: This is a brand-new, family-friendly activitiy for toddlers and up. Come and try it - no need to register in advance. Outdoor fun at an early age!
Beginner: This is a great course for those individuals and families new to orienteering. You will visit the controls in a pre-set order. Most of the time you'll be on trails or on the grass. The controls will be on easy to find features (like a trail junction, or a very obvious and huge tree!)
Novice: This course is great for those who have been orienteering a few times. Like the short course, you will visit the controls in a pre-set order. The length will be more than the short course, but still manageable for families who want to be out for a little longer.
Score-O: Choose your own route! You'll have 1 hour to visit as many of the controls as you can. You'll need skill and strategy to find the best route, and maximize your points. You'll lose points for being late back, so bring a watch and be careful with your time.
Safety Precautions:
This is a public park, with many small roads running through it. Please exercise caution at roads and cross at a crosswalk where possible. A gardner here observed one of our runners just dashing across the road with his head in the map a couple of years ago - don't be that guy! We can lose our permit rights to this park if we're not careful!
Please also be respectful of pedestrians, and stay off the bike paths.
Course Notes:
On orienteering maps, olive green and purple slash mean out of bounds. This means that you cannot, under any circumstances, cross the area. You will be disqualified, and we could lose our permit. Please be respectful of the instructions laid out on the map.
Acknowledgements:
Thanks to Vancouver Park Board for allowing us access to Stanley Park again.
Without volunteers, these events cannot take place. A hearty thanks to all those helping put this event on. If you would like to volunteer/help at upcoming WETs/WJRs, please do let us know!
---
Location