BC Champs Regional
September 22nd 2012 12:00pm - September 23rd 2012 5:00pm
(includes GVOC September "Why Just Run" series event)
Event Director: Jeremy Gordon (gvoc.bcoc2012@gmail.com)
Updates
Update
Date
All course maps posted
Sept 29
Items found: email gvoc.bcoc2012@gmail.com to claim


pair mens pinkish "Speedo" shorts (complete with red underwear...)
small dark-blue "Banana Republic" T-shirt
orienteering Valpro glasses (Green frames) with magnify lens

Sept 29
Photos by Adrian Z
Sept 24
Middle Splits
Sept 23
Middle by Course
Sept 23
Middle Open Sport
Sept 23
Sprint Splits
Sept 23
Sprint by Course
Sept 23
Long Splits
Sept 22
Long by Course
Sept 22
Long Open Sport
Sept 22
Start Lists posted
Sept 19
Event Guide now available
Sept 17
Whistler Blackcomb promotion details
Sept 17
Organiser and volunteers acknowledged - see bottom of webpage
Sept 15
Pre-assigned start times for all races (will be posted to website shortly). Start punch will be used
Sept 15
Long and Middle races now CANADA-CUP sanctioned also
Sept 4
Long start time now 12 noon (was 11am) on Sat. Sept 22
Aug 27
Join us for two days of wonderful Orienteering in spectacular Whistler, BC.
What's your favourite event: Lost Lake, with its open forest and intricate trail network? Or perhaps you prefer the urban jungle of Whistler Village, with its narrow alleyways between buildings and garden parks around the Olympic Cauldron? Or do you dream of running on top of the world at Whistler Mountain?
Note: Long, Sprint and Middle are all sanctioned Canada-Cup events.
Start Lists
Schedule
| Date | Time | Event | Location |
| --- | --- | --- | --- |
| Sat, Sept 22 | 12 noon (note: time changed from 11am) | Long (sanctioned Canada Cup event) | Lost Lake |
| | 5pm | Banquet | Old Spaghetti Factory, Whistler |
| | | | |
| Sun, Sept 23 | 8am | Sprint (sanctioned Canada Cup event) | Whistler Village |
| | 2pm | Middle (sanctioned Canada Cup event) | Whistler Mountain top (conditions permitting) |
Registration
Registration is now closed. On-the-day registration for Open classes only can be done for any race at the Registration table at the Long or Sprint events area. All races are at full cost. Banquet tickets are no longer available. Middle event competitors must buy their own gondola ticket at full cost.
Registration inquiries: email Jeremy Gordon at gvoc.bcoc2012@gmail.com
Withdrawal Penalties: Until 11:59pm September 1st, full refund less $30 administration fee; until 11:59pm September 15th, 50% refund (minimum $30 withheld); September 16th onward, no refund
| Event | Location | Adult (19+) | Junior (under 19) | Notes |
| --- | --- | --- | --- | --- |
| Long | Lost Lake | $25.00 | $15.00 | |
| Sprint | Whistler Village | $20.00 | $10.00 | |
| Middle | Whistler Mountain | $30.00 | $20.00 | includes a PEAK-to-PEAK gondola ticket valued at $50 adult/$25 child! |
| | | | | |
| Banquet | Old Spaghetti Factory | $22.00 | $10.00 | Set group menu "B - Bella Pasta Package" |
| | | | | |
| SI stick rental | | $2/day | $2/day | |
| Compass rental | | $2/day | $2/day | |
General Event Information
Classes
Age class

age as of December 31st 2012

Open Beginner

point-to-point short course, visiting check-points in a specified order
easy navigation, length 1.5 - 2 km (30'), suitable for newcomers, individuals, pairs, and families

Open Sport

"scatter" format course, visiting as many check-points as you like in 45' (you choose the order and difficulty of the check-points you visit)
a mixture of easier and more difficult navigation, suitable for older newcomers (individuals and pairs)

Open Advanced

point-to-point course
advanced technical difficulty, moderate length, suitable for experienced orienteers.
Banquet
Group seating has been booked at the Old Spaghetti Factory in Whistler Village.
4154 Village Green, Crystal Lodge
Phone: (604) 938-1081
Website: http://www.osf.ca/locations/british-columbia/whistler/
There is a single group menu available: B - Bella Pasta Package
Coffee, tea and soft-drinks included - all other drinks must be paid for individually.
Payment required in advance so numbers can be confirmed. Banquet Tickets will be in event envelopes, available at the Registration table at the event. Any refunds will be minus a $10 admin fee.
Promotions
Whistler Blackcomb Mountain
"For the BC Orienteering Championship participants, Whistler Blackcomb will offer the following discounts on pre-booked mountain products:
Discounted PEAK 2 PEAK Gondola Sightsee tickets; You must call in advance to book tickets. 1. Call 1-800-766-0449. Our Reservation Centre is open from 9:00 am –5:00 pm PST. 2. When pre-booking please ensure that you tell the Reservation Host FIRST that you are a BC Orienteering Championship participant. 3. Book your PEAK 2 PEAK Gondola Sightsee tickets or Bike Park products. 4. Provide your valid credit card details for immediate processing required. (We accept Visa, Master Card and American Express) 5. Record the Customer Booking Number given by your Whistler Blackcomb Reservation agent.
Adult Youth/Senior Child
1 Day $30.95 $25.95 $14.95
2 Day $40.95 $35.95 $23.95
Pass $69.95 $59.95 $39.95
Cross Country Connection
"Connection Cafe in the PassivHaus, located at the base of Lost Lake trails. We are excited about your upcoming race. If possible, please send out a group email to all the participants to let them know what is available for them at our cafe.
We are pleased to offer local and organic products. We sell a variety of beverages including fresh fruit smoothies and in store made gluten free energy bars. We have grilled paninis and wraps as well as in shop made salsa and hummus for snack plates. Our food is nitrate and preservative free and very reasonably priced. Come try our home made cookies - they are only one dollar and a perfect accompaniment to our locally roasted espresso coffee!
For more information check out our web site: http://www.crosscountryconnection.ca/cafe/
If you have some energy after the race, perhaps you would like to rent a bike and explore beautiful Whistler! "
Accommodation suggestions
(many other accommodation options are available)
Tantalus Resort Lodge I
4200 Whistler Way
Two bedroom apartments (with kitchen)

Sept 19th - $120
Sept 20th - $120
Sept 21st - $145
Sept 22nd - $145
Sept 23rd - $120
Sept 24th - $120

Code for booking these rates: PC2012
Riverside RV Resort & Campground
10% discount on posted rates (arranged by Katie Copland)
1.4km from Whistler Village, on the Whistler Valley hiking trail, at the edge of the Lost Lake map.
Full services, including small store, restaurant, showers, running water, laundry, playground.
RV sites, log cabins, walk-in tent sites beside Fitzsimmons Creek.
Some group tent sites for 6 - 7 tents, suitable for clubs.
www.whistlercamping.com
Cal-Cheak Recreation Site
approximately 20 minutes south of Whistler Village, at the north edge of the Brandywine map.
basic forest camping in old growth forest by fast moving river
Outhouses, no running water
Approximate cost: $10/vehicle/night
Site operator: the Revnilles. Phone: 1 604 894 6423
Organisers and Volunteers
A huge thank you to all the volunteers working on 2012 BCOC
| Event | Teams | Lead | Crew | Time Needed | Location | Equipment |
| --- | --- | --- | --- | --- | --- | --- |
| Long | Course Planner | Mike Rascher | | | | |
| | Controller | Brian Ellis | | | | |
| | Start | Robyn Rennie | Jackie Bonn, Gar Fisher, Bruce Rennie | Sat 11am | Passiv Haus | |
| | Finish | Andrea Balakova | Gilles Delmee, Catherine Hoofd, Thomas Nipen (standby) | | | |
| | Registration (pre-registered) | Scott Muma | Hilary Anderson, Jeremy | | | |
| | Registration (on-the day) | Alison Price | Adrian Zissos, Charlotte McNaughton? | | | |
| | Refreshment | Holly Hendrigan | Marissa Woods | | | Drinks + snacks |
| | | | | | | |
| Sprint | Course Planner | Meghan Rance | | | | |
| | Controller | John Rance | | | | |
| | Start | Karen Lachance | Bob Mastico, John Rance, Rachel | Sun 7am | Cauldron in Celebration Plaza | |
| | Finish | Andrea | Gilles Delmee, Catherine Hoofd, Thomas Nipen (standby) | | | |
| | Registration (pre-registered) | Scott Muma | Hilary Anderson | | | |
| | Registration (on-the day) | Alison Price | Adrian Zissos, Charlotte McNaughton? | | | |
| | | | | | | |
| Middle | Course Planner | Magnus Johansson | Stan Woods | | | |
| | Controller | Alex Kerr | | | | |
| | Start | Bruce Inglis | George Pugh, Stan Woods, Gar Fisher | Sun 1pm | Roundhouse | |
| | Finish | Andrea | Gilles Delmee, Catherine Hoofd, Thomas Nipen (standby) | | | |
| | Registration (on-the day) | Alison Price (on-the-day only)? | | | | |
| | Refreshment | Holly | Marissa Woods | | | Drinks + minimal snacks |
| | | | | | | |
| All races | Event Committee | Jeremy, Marg | | | | Resolve initial competitor complaints |
| | Jury | Alan Vyse, Leigh Bailey, Marion Owens | | | | Resolve any escalated complaints |
---
Location
Course Maps
Long course 1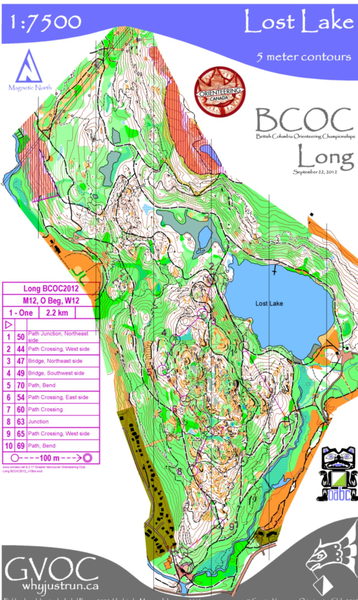 Long course 2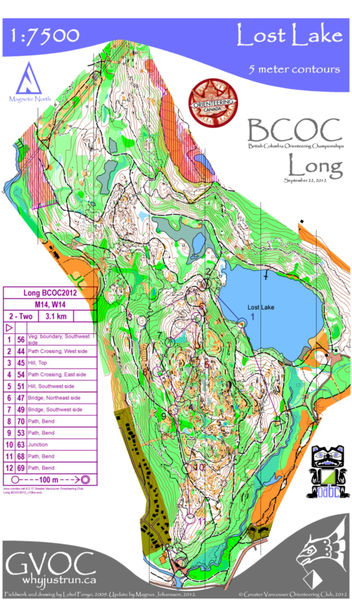 Long course 3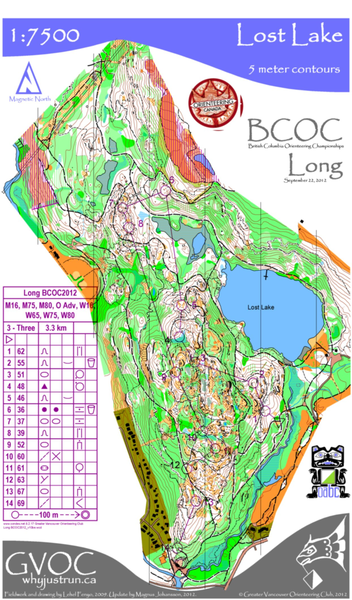 Long course 4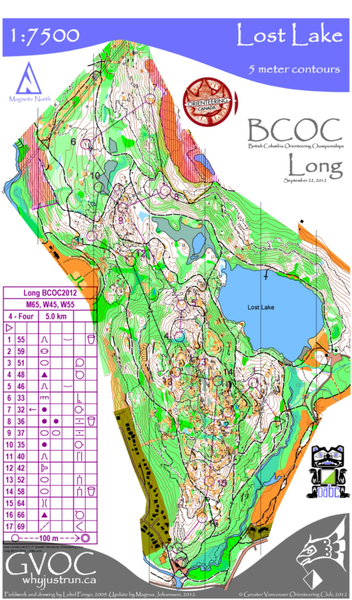 Long course 5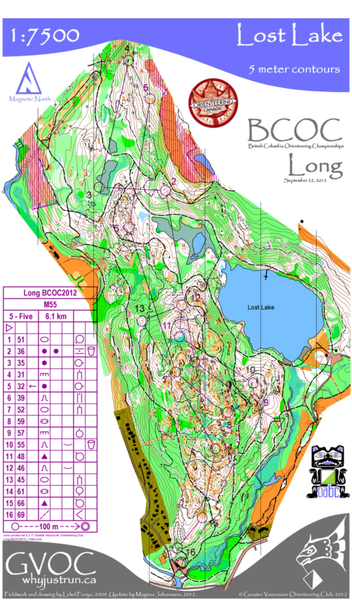 Long course 6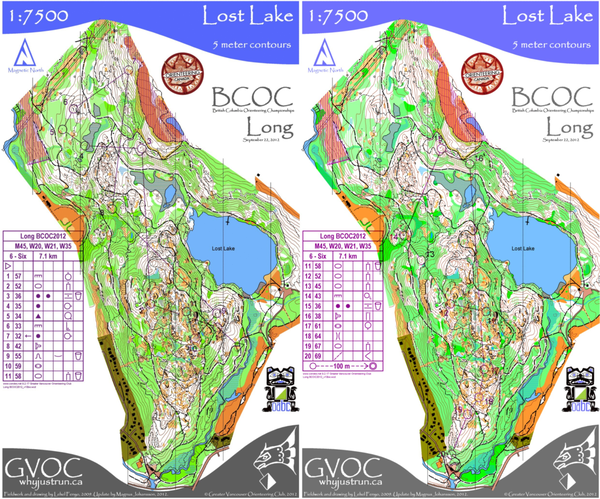 Long course 7
Sprint course 1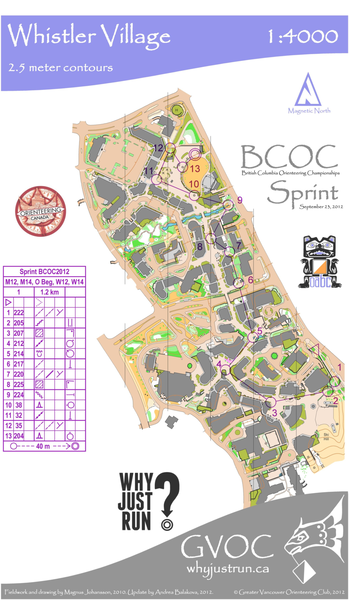 Sprint course 2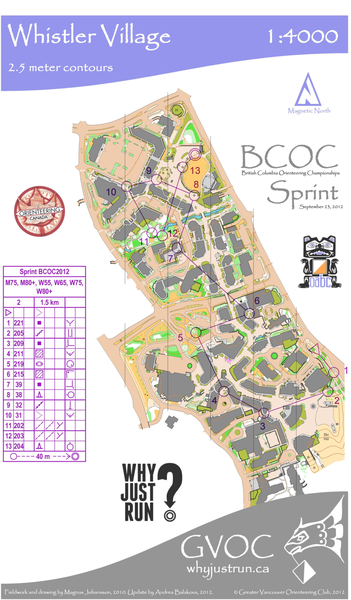 Sprint course 3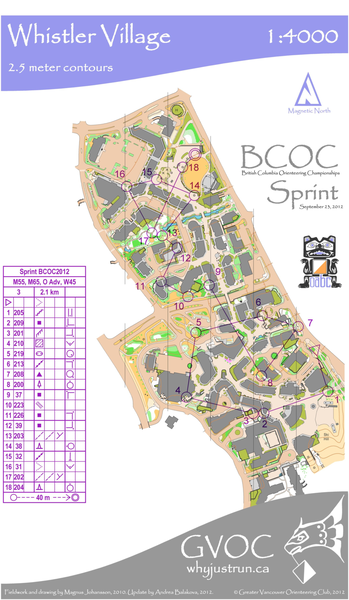 Sprint course 4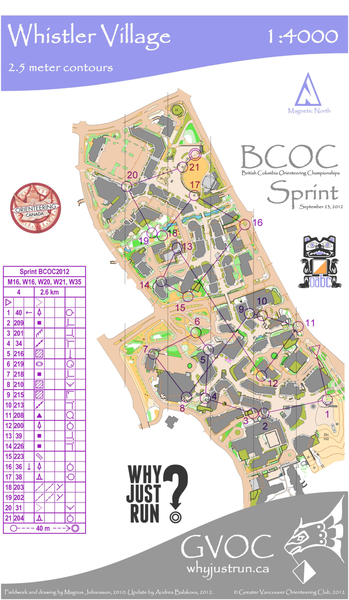 Sprint course 5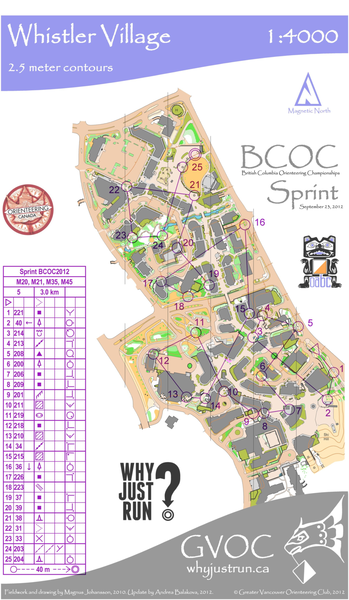 Middle course 1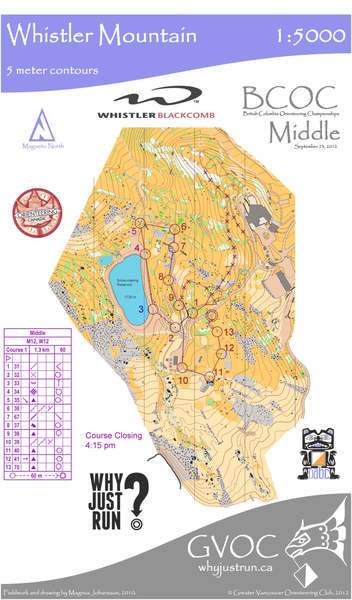 Middle course 2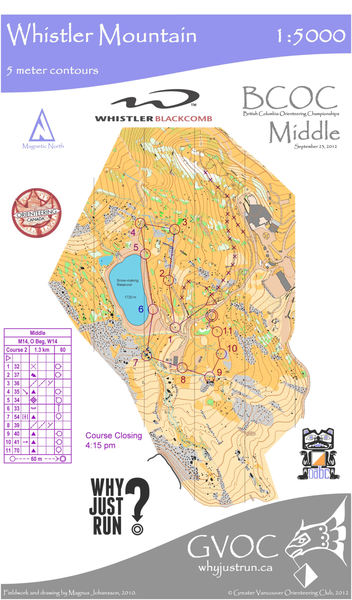 Middle course 3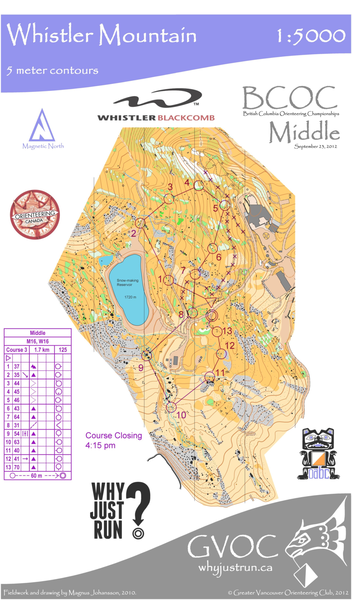 Middle course 4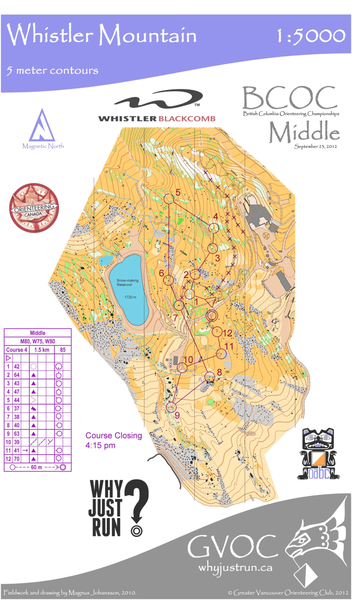 Middle course 5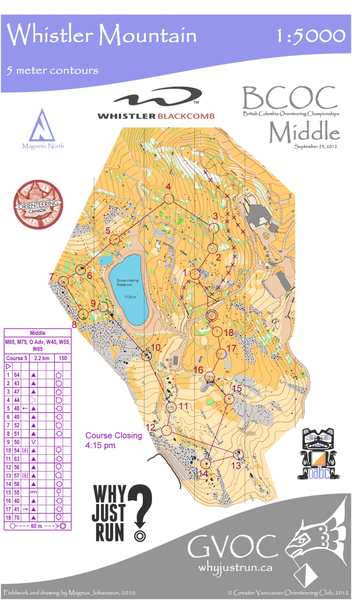 Middle course 6
Middle course 7