Deep Cove Why Just Run
February 13th 2022 10:30am - 1:30pm
Organizers: Laurent Mingo (Event Director), Chris Benn (Organizer), Joanne Woods (Membership), Robyn Rennie (Assistant), Daniel Widmann (Assistant), Denis Anisimov (Assistant), Nathan Detroit Barrett (Assistant), Kate Karamycheva (Assistant), Mike Rascher (Coach), Ingrid Weisenbach (Permit)
Map: Deep Cove
Orienteering is back in Deep Cove for another Urban/Forest mix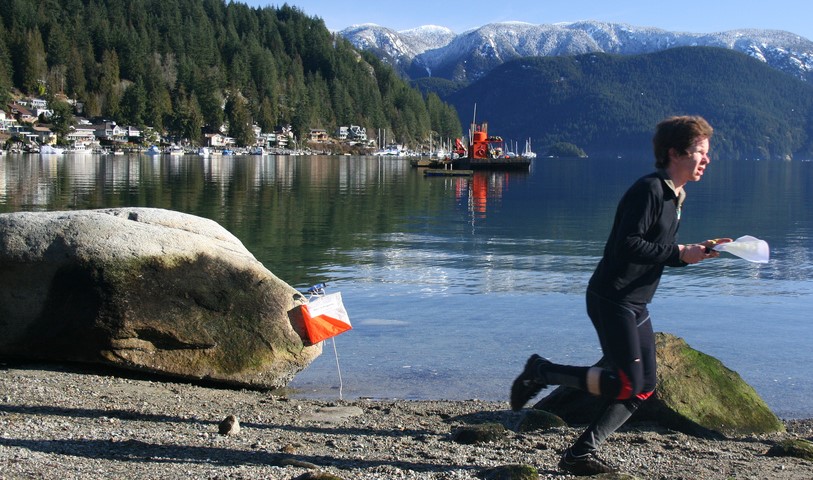 Results
>> QR Timing Results: here

>>> Beep Timing Track Upload & Results is here.
>>> MapRunF Track Upload : Upload your track here Look for DeepCove in search box and 3 courses:


>>> Consolidated Results : to follow...


***********************************

Registration deadline: Friday February 11 at 12pm (noon)

**********************************
Registration for this event will be done through the new membership registration system (Interpodia/2mev.com). Follow the course registration link to sign up for the event. If you face any issues or have feedback please let the team know at gvoc.events@gmail.com.
Start time window: 10:30 am to 12:00 (last start).
Course close: 13:30

>>> See who is registered
Courses:
Real orienteering control flags are back !

3 courses to choose from, as usual, the distance is given as the crow flies, so expect 20-30% more length, depending on route choices.
Longer: 4100m - 150 vertical up - Mixed forest and street O
Shorter: 3300m - 80m vertical up - Shorter mixed forest and street O
Shorter & Easier: 2500m - 40m vertical up - Mostly streets & open parks, with a few controls in forested area for good measure
Beginners are welcome : the "Shorter & Easier" course has a few quirks still, so we will have a mini course to demo and help you to get started. No gathering to look at a map together, but rather a 'show-and-tell' approach, at safe distance for everyone.

***********************************

Registration deadline: Friday February 11 at 12pm (noon)

Please note that to minimize interaction around registration we will not take late registration or payment on site. Please make sure that you are registered by the above deadline. Thank you!
**********************************

Timing:
As we are still transitioning to the new registration system, and to avoid crowding around the registration area, we are proposing two alternate self-timing systems as an alternative to SI : QR timing, and Beacon timing. You can use either of the two, or both together.
Beacon Timing: If every second counts and you want to run by the controls without stopping, choose beacon timing. You will need your phone on you while running with no further intervention after the Start. For this you will need to download the third-party Beep Timing app here:


.
>>> Instructions on how to use the app are here.
>>> Beep Timing Track Upload is here:

QR Timing: If you prefer the thrill of "punching" the controls, you want to use QR timing. It is a little slower as you have to scan the control QRs with your phone. However, you get to "punch", and hear the validation sound when punching the expected control (alternatively, you will get a warning sound if you are not at the correct control). For QR timing:

Register/Log on at iorienteering.com

To load a course either scan the Setup QR code, or enter the setup code (printed on the map).
To start the event, scan the Start QR on the Start control and off you go.
What you are looking for: the standard orienteering controls and a small QR plate like the one shown below
Upload your result from the app (log into the app for this):
Self-check-in and out:

We will have hosts and help at registration, but to prevent gatherings around the registration desk, a self check-in and out desk will be set up. Everyone in the registration area is asked to please wear a mask (...covering nose and mouth)

Check-in on the registration sheets available on the main event desk
Maps will be available, with bag in case of rain
Note that to participate to the event, and for insurance requirements,

each and every family member who will be attending

must have signed and submitted, on the day of the event, a Declaration of Health form. You can find it online here.
When you have finished (even if you haven't visited all the controls), please come back to the check-out so we know you have returned from the course.

***********************************

Registration deadline: Friday February 11 at 12pm (noon)

**********************************

>>> See who is registered

Parking

There is free parking at the school and nearby streets, as well as 150m to the south in Myrtle Park and 75 to the north toward the beach. Public washrooms are also found at Myrtle Park.
COVID Safety

Please stay home if you have any symptoms of COVID-19 or illness.
Please stay home if you have been in close contact with a confirmed or probable case of COVID-19 in the last 14 days.
Only participate in orienteering activities with individuals from your COVID bubble.
Stay at least 2 metres away from all other park/wilderness users and do not congregate at the trailheads or control sites.
Do not touch the control (checkpoint) flags
Do not congregate around the self-serve desk when picking up maps
Please wear a mask at the self-serve desk and nearby
and nope, masks on chins or foreheads do not count...
---
Location