Whistler Olympic Park Ski O Weekly Virtual Training
March 13th 2021 10:00am - March 24th 2021 12:00am
Organizers: Laurent Mingo (Event Director), Robyn Rennie (Controller), Laurent Mingo (Course Planner), Bruce Rennie (Controller)
Ski Orienteering at Whistler Olympic Park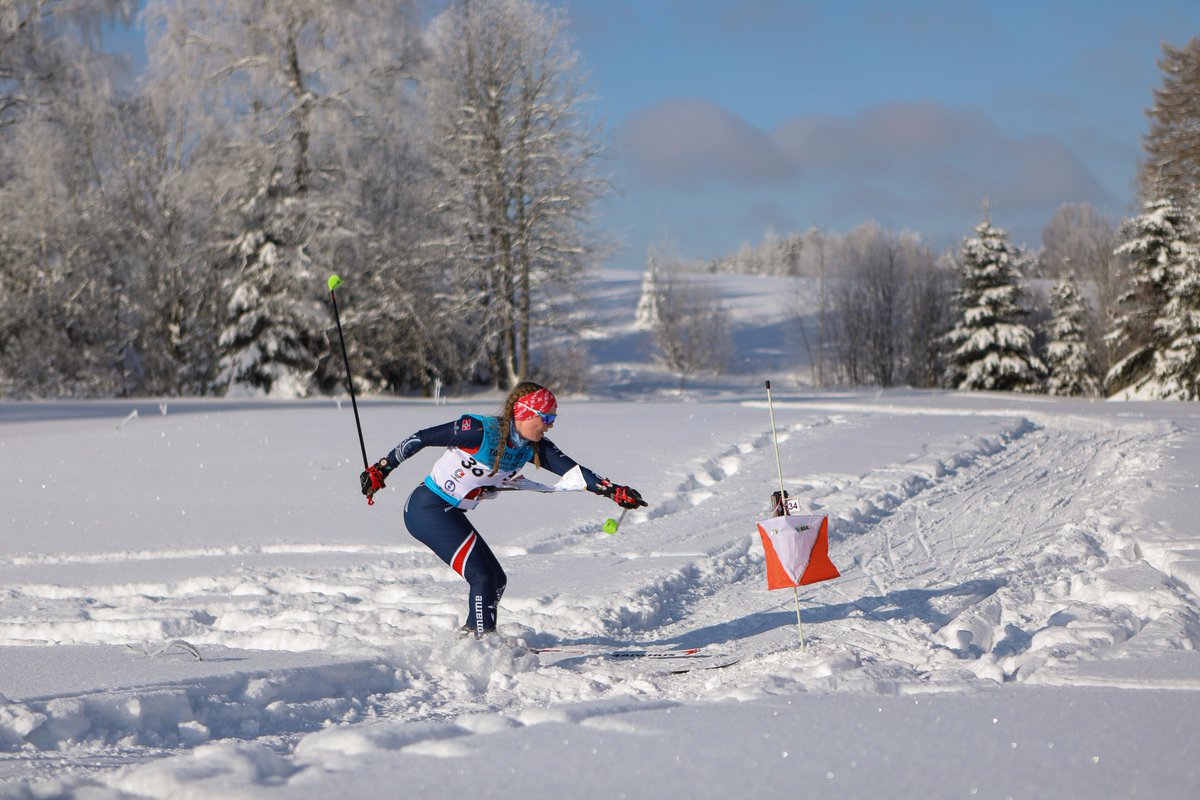 Yes... still a bit optimistic picture, but next year with real control and spandex for keeners. Just like the previous Cypress-O, the event will be virtual, so no controls and no flags, but skiing distance and elevation will be real.
This is a point-to-point course. Controls have to be checked in order. Focus is on getting a good ski pace and solving each leg's route choice.
3 courses:
Long: 6500m as per direct legs, expect near 10km effective. Expected winning time perhaps < 45min for fast skiers, conditions dependant.
Medium: 4700, direct, expect near 8km effective. Expected winning time < 35 min.
Shorter: 3700m, direct. < 20 min anyone?
Request a map from gvoc.membership@gmail.com and send in your time and number of controls after the event.
Or upload your GPS tracker results here.

Important: Courses were designed so that it is unlikely you would ski nearby the Finish control on your way to other controls. Bear in mind that MapRun6 app, if your GPS location is withing the Finish zone will think you are finishing and stop logging your route.
Best is to you a GPS watch to log your route and ski with a real map anyway.

Note:

Use of the paper map is recommended as the MapRun6 's rendering makes it look a little cluttered.
consider protecting the paper map from moisture in a protection sheet.
You will need a valid Cross Country day pass which can be purchased on-line in advance from WOP
no pinflags
To make it a little easier the event is available in MapRun6 and can be downloaded from Canada > British Columbia > Whistler > Whistler Olypmic Park >
For information on using the MapRun6 app see the information in "Virtual Orienteering". If you want to follow your track turn on Display Track and Display Current Location prior to passing through the start.
Request a map from gvoc.membership@gmail.com and send in your time and number of controls after the event. Or upload your results here.
MapRun6: if you use the app to record your track while skiing with the paper map, be aware that the app may catch other controls while you are passing by (and ding). This is normal, but potentially distracting as you are moving towards the actual control of interest. ...Ignoring distractions is part of the art...


Additional Info for Ski-O at WOP

Location / Registration
Virtual Event.
What should I bring?
Wear normal cross country ski gear. Also bring a lanyard to hold the map - one with a end that twists completely around is ideal. A compass is optional - and a little bit tricky to carry while skiing ;-)
Will I enjoy this?
Probably. Most people do. Partly it is the novelty of skiing trails in an unusual order, partly it is the challenge of picking a better (i.e. shorter, less climb, easier to navigate) route to a control, and partly it is the joy of a "treasure hunt" with lots of orange & white 'treasures'.
How is a ski orienteering map different from normal orienteering map
Ski-O maps show the contours (5m increments) and the trails. Trails are shown in green and the thicker the line, the wider the trail.
Does the map reflect current grooming conditions
Nope - this is too low key an event for that! There is a chance you will choose a track that looks as if it should be fast, but is ungroomed. We did some recon. and removed ungroomed trails that could have been used as route to a control.

Grooming depends on the weather. With either a small accumulation of snow or none at all, all of the ski trails should be groomed. This will include; Olympic Biathlon, Olympic Nordic Combined, Neverland, Biathlon Connector, Olympic Cross Country, Inside Passage which are the trails shown on the Ski-O map. In the case of a heavy snowfall during the event the trails that will be re-groomed (rolled only) are; Neverland, Inside Passage, Glide Connector and Porter's Glide. Olympic Biathlon, Olympic Nordic Combined, Olympic Cross-Country will have been groomed early in the morning but will not be re-groomed during the day.
Can I ski on ungroomed trails?
Yes.
Can I go off the trails?
No. There are numerous hazards including tree wells, creeks, and avalanche hazards within the site.
Note that there are some "short cuts" between tracks that you are allowed to take. These are marked in light grey on the map. In general, if the tracks come really, really close together, then it is okay to cross between them.
What about the one-way sections?
You must obey the no-entry signs. These are there for safety reasons - generally steep hills are one-way only.
One way sections of track are marked in the terrain with "Do Not Enter" signs, and on the map with an arrow pointing in the permitted direction of travel.
---
Location