Renfrew Ravine Re-Run Wednesday Evening Training
July 11th 2018 6:30pm - 8:00pm
Organizers: Emily Ross (Event Director), Mike Rascher (Course Planner), Laurent Mingo (Assistant), Joanne Woods (Membership), Kate Knapp (Assistant), Connor Chittock (Assistant), Sergio FerLoz (Assistant), Jiri Krejci (Assistant)
Map: Renfrew Ravine
Description

Did the farsta at Sprint Camp get the best of you? Or do you wish that you had a chance to run it? Or you just like the chaos of running with, against, and around your clubmates? Come on out to try the Renfrew Ravine farsta event!
Here is the description from the Sprint Camp program:
"There will be 4 loops, or "parts". All loops are on one double sided sheet of paper in one map bag. You will first run Part 1, then Part 2, then Part 3, then Part 4. Parts 1-3 are forked loops that start and finish at the hub control #100. You must punch this hub control on each loop. Loop 4 is a common loop and the hub #100 must be punched before proceeding to the finish control."
The course was designed by Mike Rascher. It is a very small area, that is appropriate for beginners (some of the controls may be slightly off the trail, but not by much). If it ends up being too much, you can always just leave off some loops.
PLEASE BRING YOUR SPORT IDENT (SI) IF YOU HAVE ONE.-- EDIT NEVERMIND, WE'RE JUST USING PIN FLAGS.
Schedule

6:15pm Introduction to Orienteering for Beginners
6:45pm Mass start for those who want to participate
8pm Course Closure, participants must report to the Finish before leaving.
Courses
Safety Precautions

Always use good judgement and common sense. Carry a whistle at all times. Headlamps are essential to see and be seen. Take care when crossing roads and parking lots. Watch out for other runners, cyclists, and trail/sidewalk users.
Parking/Start Location
Parking along Nootka St. between E 19th Ave and E 22nd Ave. Put 2929 E 22nd Ave, Vancouver, BC V5M 2Y3 into your GPS. Check the map for the specific start location.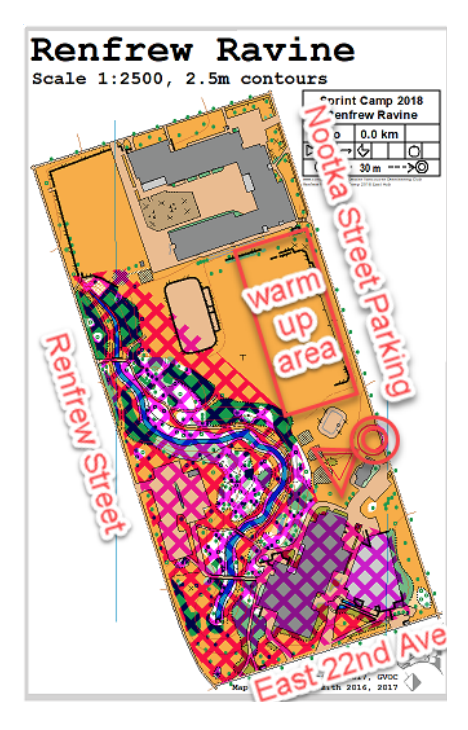 Post-Event Dining

TBD
Acknowledgements

Without volunteers, these events cannot take place. A hearty thanks to all those helping put this event on. If you would like to volunteer/help at upcoming WETs/WJRs or would like to organize a WET please let us know.
---
Location