Sprint Camp 2015 Regional
February 13th 2015 6:00pm - February 15th 2015 12:00am

Organizers: Meghan Rance (Event Director), Magnus Johansson (Event Director), Andrea Balakova (Event Director), Alison Schoenhardt (Event Director)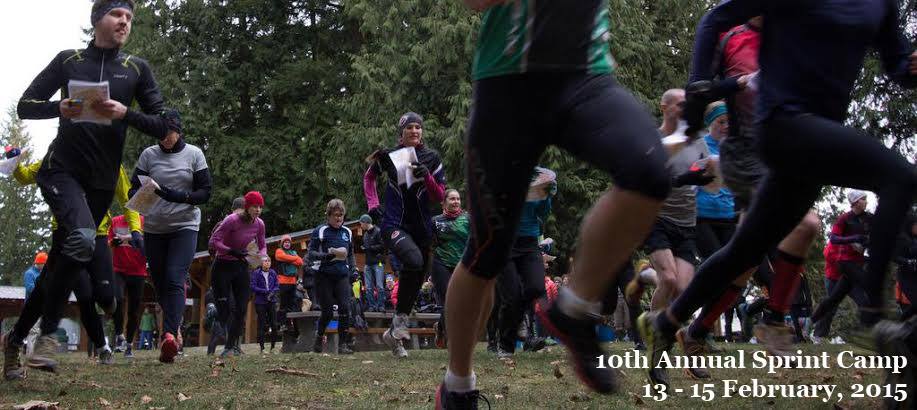 Results
SI #3 PNE (Split times comparing common legs not true order)
Best 4 out of 5 Results (Elite)
2015 Program is available here. We strongly recommend you print a copy, or make sure it's accessible on your favourite portable device. You will be expected to refer to the program for all the event information. You can download the waiver here. Everyone must sign a waiver at his/her first event.
Sprint Camp is 10 years old! I know, we can't believe it either... we have a fabulous weekend planned, as always.
In addition to the 2 new maps we have for Sprint Camp this year, we're going to re-visit some of our (and your) favourite maps from the past 10 years. We've secured HPC Director BRENT LANGBAKK to be the official Sprint Camp coach! Brent will organize all of the training sessions, be on hand to give coaching advice, and will present at both the Friday and Saturday night dinners!
There will be 6 races through out the weekend. 5 of these races will count for the "Best 4 of 5 races" cash prize. Remember, it's never to late to start your training to be in with the chance of a cash prize (details below)!
In honour of our 10th year, and due to increased comments from certain people, we will have fabulous t-shirts available! These t-shirts will be expertly designed by Sprint Camp's biggest fan, Patrick Nuss. If you purchase the "all sessions" option, you'll get a t-shirt thrown in! You can also purchase t-shirts through Zone 4. Our ordering deadline is December 14th; we'll order extras, but we cannot guarantee sizes or availability, so really you just need to sign up before December 14!
SPRINT CAMP COMMITTEE
Without our fantastically skilled and dedicated team of volunteers, this event would not be possible!
Event Director - Alison Price
Event Advisors - Magnus Johansson, Andrea Balakova, Meghan Rance, Louise Oram, Thomas Nipen
Billeting Coordinator - Marg Ellis
Course Planners - Brian Ellis, Marg Ellis, Robyn Rennie, John Rance, Ted de St. Croix, Magnus Johansson, Meghan Rance
Coach - Brent Langbakk
Dinners - Rachel Caulfield, Karen Lachance and Linda Wu
Map/Printing Coordinator - Hilary Anderson
Technical Lead - Scott Muma
T-shirt Coordinator - Ian Collings
Promotions - Emily Ross
PRICES
All sessions (includes 10th anniversary t-shirt, excludes dinners and accommodation): $100
Friday only: $20
Saturday only: $50
Sunday only: $30
Single training session: $10
Accommodation: $30
Dinner Friday/Saturday: $20/day
Additional t-shirts in advance of December 14th: $32
Additional t-shirts on the day (subject to availability): $35
REFUND
Up to Jan 31, 2015, 75% refund
Jan 31 onwards, no refund
BILLETING
GVOC members will offer 20 billeting spaces on a first come first served basis. The $30 accommodation fee includes breakfast and lunch for Sat and Sun. REGISTER EARLY if you need billeting. Additional spaces may be available for HPP members and members of other national teams. Please email Alison at alimcalison@gmail.com for more information.
DINNERS
Both Friday and Saturday night dinners will be catered, with a presentation by Coach Brent Langbakk. We also hope to have some entertainment. This is a great opportunity to catch up with new and old friends, go over courses from the day, and get a delicious meal. Tickets must be purchased in advance via Zone 4. If you have allergy or diet restrictions, please email Alison at alimcalison@gmail.com, and we will do our best to accommodate you.
PRIZES
For the third year in a row, GVOC will be awarding prizes to the top men and women for the best 4 of 5 SI races.
1st = $200, 2nd = $150, 3rd = $100, 4th = $75, 5th = $50
TENTATIVE SCHEDULE
Time
Event
Location
Terrain
Friday, February 13
11:00 - 14:00
Training by Brent
Garden City
Park
15:30 - 16:45
SI Race 1
Minoru Park

Park
18:30
Dinner/Presentation by Brent
TBA
Saturday, February 14
9:00
Training by Brent
Cypress Falls
Forest
10:45
SI Race 2
Grousewoods
Urban/Forest
12:00
Training by Brent
TBC
Forest
12:45
Lunch
14:00
2-man relay
Deep Cove
Urban/Park
15:45
1-man relay SI Race 3
PNE
Park
17:30
Pool
TBA
18:30
Dinner/Presentation by Brent
TBA
Sunday, February 15
8:45
WJR registration for non-sprint camp participants opens
9:00
Set-up SI Race 4
Centennial Park
Park/Forest
11:15
Chase SI Race 5
South Surrey Bike Park
Park/Forest
12:00
Lunch
13:30
Training by Brent
Crescent Park
Park
---
Location