Virtual Orienteering using GPS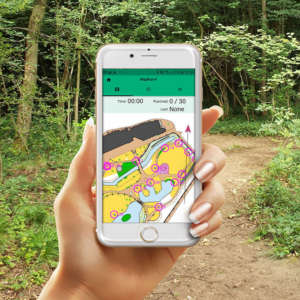 It is now possible to enjoy orienteering as an activity you can do on your own time, when attending a regular Greater Vancouver Orienteering Club in-person event is not possible. Using your smartphone and GPS technology, you can now participate in a number of "Virtual" orienteering courses that have been organized by GVOC. These 'virtual courses' have been set up around Greater Vancouver and are now listed in on our events list.
What you need:
To participate, you need a Smartphone and have downloaded an app called MapRunF. You can download MapRunF on on Google Play or the App Store to your GPS-enabled smartphone. Note: There is also an older version of the app called just MapRun (without F) — for best results, use the MapRunF version.
How it Works:
MapRunF is an app which allows you to use your smartphone to go orienteering by displaying a map and controls for you to find. Just like regular orienteering you are provided with an orienteering course with a Start, Finish and controls. Unlike regular orienteering, there are no physical control flags that you will see, instead when you reach a control (such as a trail junction, rock, fence corner, etc), your smartphone will provide you with an audible beep and/or vibration that lets you know you correctly located the control and are in the right location.

Once you start the MapRunF app, select your course and 'Go to the Start' your time starts and your adventure begins. Your phone will beep at the Start, Finish and each control you correctly visited. Once you head through the Finish, your timer will stop and you will be able to instantly see your results along with your GPS track. Your GPS track is not visible until then.
You have two options of how you can enjoy the MapRunF GPS courses:

#1 - Print a map at home and use the MapRunF app to beep when you reach a control point. This is the closest to real orienteering. The printable map will be available to you once you have registered for the event.
#2 - Use MapRunF as the map and follow along on the app as you run. Your current GPS position is not shown on the map but it will beep when you reach a control and show it as completed. The disadvantage of this method is the map area is only as large as your cellphone screen and you may have to zoom in and out as you navigate. Also, you cannot use a compass!
Here are the steps :
1. Download MapRunF from the App Store / Google Play Store (make sure to download MapRunF, not MapRun)
2. When prompted enter your name, year of birth, etc.

3. Click "Select Event -> Canada -> BC -> Vancouver"

4. Select the appropriate event and travel to the start location (ensure your cellphone is charged!)
5. Click "Go to Start" on the app. If an Event Code is required enter it when prompted.
6. Run through the Start Triangle on the map to start. Ensure you get a beep. The clock is now running!
7. Visit each control using either a printed map or the MapRunF app as the map. The app will beep as you enter the control circle and also flash on your display. There might be a slight delay for the beep. The app will also show your elapsed time. It will not show your route.
8. To finish, run through the Finish Double Circle or the Start Triangle if there is no Double Circle on the map. On most Street O maps the Start Triangle and the Finish Double Circle will be the same location. Your results will be saved automatically and you can see other runners results and your GPS route track. If your cellphone data is not turned on you may upload the results later when you are in range of WiFi.
Here is a short video that demonstrates how MapRunF can work on your Smartphone:
Have fun and enjoy this new way to orienteer!!
(Thanks to the VicO group for the excellent instructions)